"Exclusivity" has gotten such a bad rap over the years, and we totally get it. We're feeling woozy just thinking about it. But being exclusive with Pornhub isn't what you think — it's about protecting your content from being used by other tubes sites without your permission.
Pornhub-exclusive models benefit from fully-automated copyright protection, meaning we scan free tube sites to see if they're using any of your free and for-sale content without your consent. If so, we'll remove them with a DCMA takedown notice. It's automatic, so you wouldn't have to worry about a thing! This only applies to free tubes sites, so feel free to sell your videos on other non-free sites or post them on your own website.
In 2019 alone, we took down almost 250,000 infringing Model videos from free tube sites. And while this is a protective service we're offering for free to Models who opt-in for exclusivity, other similar protection plans could cost individuals roughly $200 a month.
As an added bonus, we also offer a 5% payout increase for your free videos on Pornhub and all your content will be included in the Exclusive category.
Still debating? Let's break it down.
- Pornhub-exclusive models can upload content on Pornhub, their own website, and other non-free sites.
- Free and for-sale videos will have copyright protection and will be removed from free tube sites with a takedown notice.
- Pornhub-exclusive models will receive an extra 5% payout on all free videos.
- Pornhub-exclusive models will have their content appear in the Exclusive category on Pornhub
- You keep ownership rights of all the content you upload to Pornhub.
- If you change your mind, you can opt out.
- Other similar protections plans cost about $200 a month.
If you want to give it a go and become exclusive, it's as easy as checking off a box. The next time you're on Pornhub, simply click on your profile photo and select "Model." This is your profile page with all your details.
Scroll all the way down to where it says "Opt-In To Automatically Protect Your Copyrighted Videos On Other Websites." Read through the paragraph about being exclusive and if you agree to the terms, simply check off the box, add your initials, and save.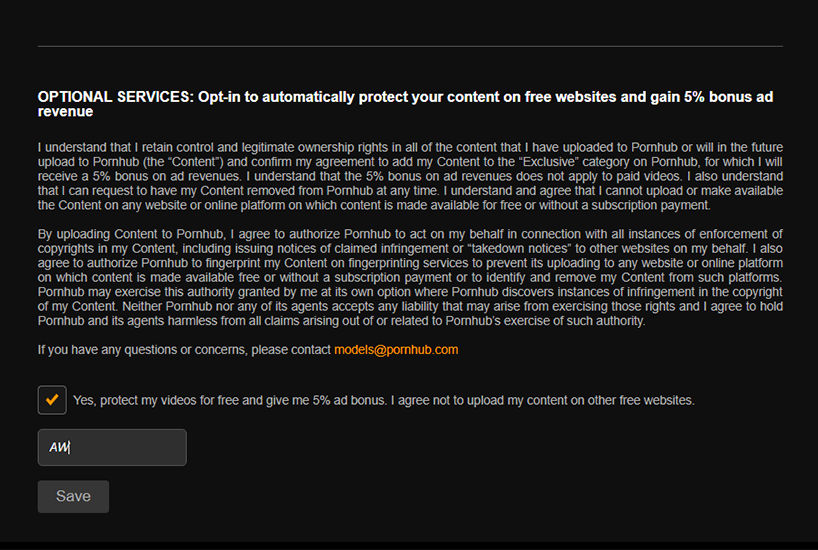 If you have any questions, send us a DM on Twitter @PornhubHelp , comment below, or click on the "Help" button at the bottom of your profile page.