DarkWetDreemz may have called it quits after only a couple of months, but once they decided to give it another go and change things up, they quickly rose the ranks on Pornhub. So this week on Model Citizens, Asia and Aaron gave us the inside scoop on what it's like to work as a couple, how they use their titles to grow their fan base, and what they've got planned for us in the near future.
What inspired you both to join the industry?
We've been doing amateur porn and been on Pornhub for almost a year now. We started because the idea of others watching us have sex was exciting, but we hardly got any views, so we just quit and deleted the profile. But then months later, after tons of research, my boyfriend said, "What if we actually tried! Skip just turning on the camera — lets put in some work. Like do skits and silly roleplaying and get some equipment. After all, people do make a decent living doing this sort of thing and we're both sick of our jobs."
So we did! We started doing corny skits and posted the videos on a few different platforms. After about two months, everything seemed to really take off. The next month, we were being featured on Pornhub.
What has been your biggest success thus far? Biggest struggle?
Being able to quit our jobs in two months. I still can't believe we did it as quickly as we did, but things were going well so we figured, why not? Our success came very unexpectedly, so the biggest struggle thereafter was keeping the momentum.
When we started out, we thought it was as simple as making a video and posting it, but we learned the hard way and realized if you want this to be your job, then you have to know it takes more work than that.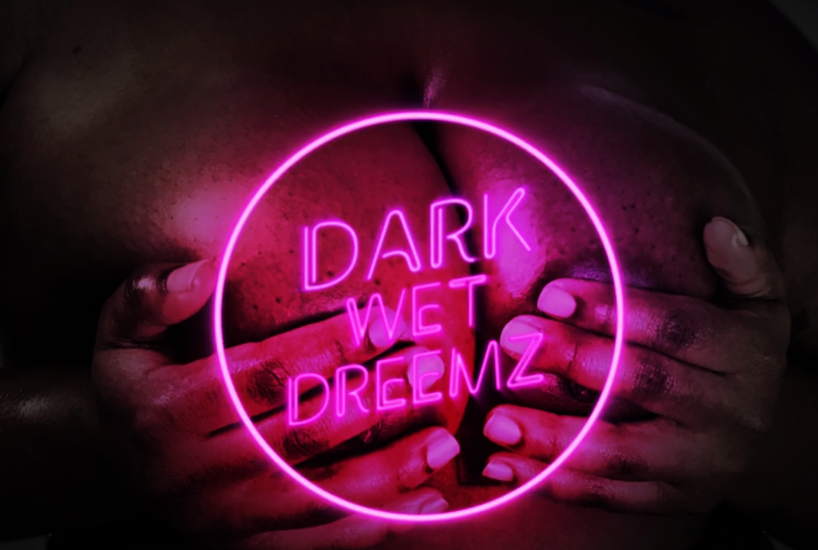 Courtesy of DarkWetDreemz
How do you come up with ideas for your videos? Do you have a favorite one?
Generally, we try to do things we haven't seen people like us doing. There are some fans out there who really want to see a black couple who loves each other and shows it on camera. So we try to show our chemistry. We also watch a lot of goofy roleplay porn in our private lives. So we really tried to incorporate some of those silly ideas into our own videos.
Recently, we've been experimenting with editing tricks where there are two of me and our fans seem to really love it. As of right now, my favorite video is the "Out-of-Body Experience" video because it gave us a chance to flex some editing muscle and have fun at the same time. Aaron had the idea in his head but had no idea how to do it. He watched a few tutorials on YouTube on how to create a double and voila! It was done.
How do you use the features on Modelhub and Pornhub to your advantage? How do you decide what to sell and what to post for free?
Not many people talk about how important it is to make your title relevant to your video. Pornhub does a great job with recommendations, so our content shows up on quite a few recommended lists. It's much easier to understand this than trying to get featured because it targets viewers who already have a preference for people like us and that helps build our fan base. Although we can't control it, we can put thought into our video titles without using spam trigger words.
The bulk of our income comes from free content on multiple platforms so that's usually the route we go. We tend to sell videos that took longer and were more difficult to shoot.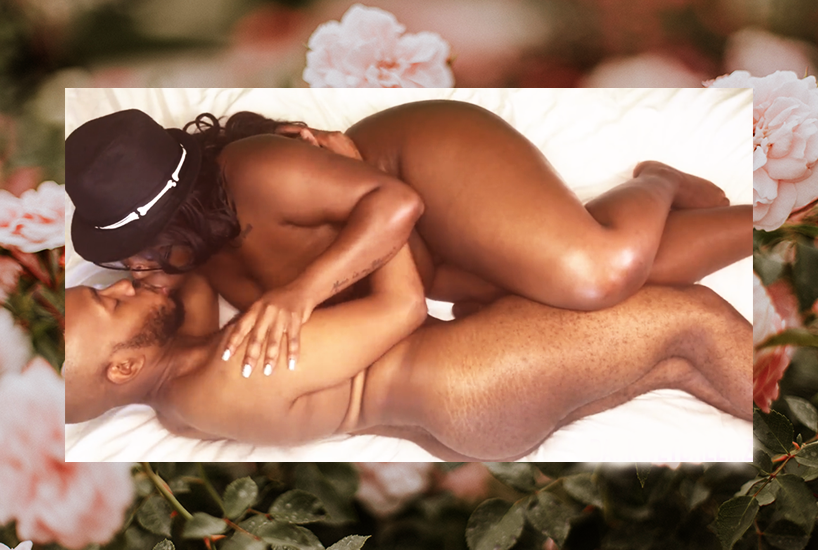 What kind of helpful advice would you give to new models?
Being featured seems to be a main concern for many Models. While it could help you, it shouldn't be your main focus. You can make a living without ever being featured. Your fans are much more important. Great fans will support you and that will financially propel you in the direction you want to go. Your goal should always be to make content you are proud of and your fans love. If all you did was turn on a camera and bust a nut, then you didn't do enough. Take time to be creative and don't worry about anyone else's success but your own. This industry presents many challenges, but the greatest will ultimately be your ability to roll with the punches. This porn industry, in truth, does favor a certain look over the other, but you cannot let that stop you. Find your lane and give it 110%.
How is it working together? How has it affected your relationship?
It's fantastic! It's greatly improved our sex life. We're acting out our fantasies and not anyone else's, which is why we decided to go the more independent route.
Courtesy of DarkWetDreemz
What do you think is the biggest misconception people have about porn? How could we change it?
Aaron and I talk about this almost every single day. I would say the biggest misconception is that the people who do this aren't people. The idea that you can't be sexy and intelligent or classy are still very prevalent ideas in our society. Sex work is often associated with a lack of education, but if only people understood just how smart you need to be to succeed at this job. This is coming from two people that had very corporate jobs.
I think we have a while to go before that ideology changes, but I'm absolutely loving the fact that people are starting to accept more darker-skinned, plus-size women in porn and plus-sized people in general. That was my biggest concern when I started. I was afraid of being too dark or too fat. I would tell Aaron that all the time and he would smile and say, "Baby, trust me. People are going to love you."
As for porn being less taboo, I believe it really starts with the viewer. Viewers need to see porn as entertainment like a film or a song instead of just this shameful thing you watch when your significant other is asleep. How often do you still hear the term "porn star" used as an insult? Many don't realize that these amateur performers are shooting their own videos, learning how to edit them, editing photos, coming up with new ideas, networking, marketing, and answering every fan's comment and message.
Why the name DarkWetDreemz? How does it represent you as a couple?
We were originally going to go with Aaron and Asia, but truth be told, we have no intention of stopping with the two of us. We intend to shoot more models and become a studio for those non-traditional-looking people out there who are sexy as hell and don't get displayed as much as they should. We wanted to sound like an entity, not just a couple, so we settled on this name.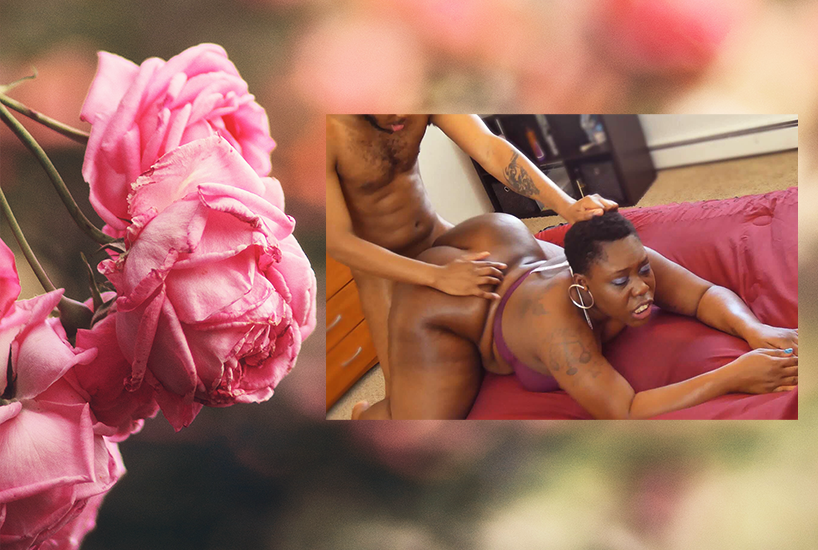 Courtesy of DarkWetDreemz
You mention on your profile that you don't have IG or Snapchat, however, you do have Twitter. Why do you prefer one social media platform over the others?
I tend to gravitate toward more sex-worker-friendly sites. Instagram was an honest waste of time and I don't have the patience for Snapchat. Twitter really helps drive traffic to wherever my content is and helps me reach out to fans and others in the industry. Truth be told, you don't need social media to be successful, but I do like to connect with fans.
How do you deal with criticism online?
When we get actual criticism, it's usually useful. You sometimes have to decide what you'll implement and what you'll ignore. In fact, many fan suggestions we've gotten in our custom video orders have really helped propel our videos.
Has your perception of the community changed since you started?
We had no idea that there is a world for amateur porn beforehand. There's a lot of support that we would've never gotten had we done any other job. I have so much respect for those who have made this a career because it's not easy.
If you could go back in time to when you started, would you have gone about differently?
The first official time we started posting anything on Pornhub was back in May of 2018. We posted two videos and got a couple of hundred views. We saw that as some sort of sign, so we gave up. I would love to go back and slap us and tell us to keep going. We could've quit our jobs much sooner.
Follow DarkWetDreemz on Twitter for photos, videos, and updates on her next project.
Twitter @TheAsiaDrake