Welcome back to Pornhub Staff Citizens where we put the spotlight on one of our team members. This time around, we got the lovely NattyCat to share some personal deets and embarrassing stories with all of you!
How long have you been working at Pornhub?
I've been at Pornhub for under a year now — still a newbie!
What's your position?
I'm the marketing manager of the Pornhub Model Program and Modelhub.
What do you love most about your job?
I love the excitement and passion that everyone has for their jobs, for the industry, and for the community — it's contagious and makes it easy to get completely immersed in it.
What's your work pet peeve?
The fact that I can't seem to remember which doors are "pull" and which are "push" (I swear they switch them daily and that's why I can't open them).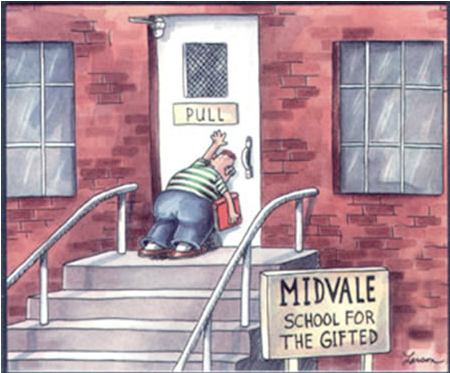 Courtesy of Farside
When you're not working, what could we find you doing?
I like weird hobbies — I do silversmithing, aerial silks, and a bunch of different art forms (needle felting, watercolors, etc).
How would your colleagues describe you?
Kooky with a very dark (and inappropriate) sense of humor.
If you could pick any super power, what would it be?
To stop time — I can finally Marie Kondo my goddamn house.
What's your most cringe-worthy dating story?
I was having spicy noodles on a date when I noticed my date had a drop of soup on his face. I was trying to be flirtatious and went to wipe it off with my finger, only to realize it was snot when it stretched from his face to my finger as I pulled back. It still makes me laugh to this day.
If you could be the opposite sex for just one day, what would you do?
Besides the obvious ( ͡° ͜ʖ ͡°) , I'd want to do physical activities to see how different my body would be (Can I climb better? Run better? Does spicy food taste better? Do sweets not taste as good? Can I actually find the vegetables in the back of the fridge?).
Are you the kind of person who squeezes the toothpaste from the middle or the end?
End — I'm one of those people who has a toothpaste squeezing tool. Middle squeezers make my blood pressure shoot through the roof.
What's your favorite place you've ever visited?
Hawaii is my favorite by far. I've been 4 times now and it's a spectacular place if you love being in nature — hiking, swimming, snorkeling, surfing, and even skiing, you can do it all.
What's the best advice you've ever heard?
My mom always says this when things go wrong: "Life is like a tiger, you'll have one stripe orange, one stripe black. No matter what, each stripe follows another and things will change." It always grounds me to remember that things will get better even when everything seems to have gone to hell in a handbasket.
What's your favorite breakfast cereal?
I don't eat cereal anymore, but Cookie Crisp is the dumbest, but most delicious, cereal ever. Who thought making miniature chocolate chip cookies was a good children's breakfast item?
What was the last movie you cried to?
I'm a big sucker and a romantic at heart. I cried last weekend to Crazy Rich Asians. I love me a good love story.
What is the scariest/stupidest thing you've done and actually lived to tell the tale?
When I was in summer camp, we went to the waterpark. It had one of those massive drop chutes where you lie on your back with hands over chest with your legs crossed and you slide down at almost 90 degrees. Classic early '90s, it didn't have safety nets and it was one of those open water slides. I was terrified, but was dared to go. I sat down, pushed off, and then blacked out; I have no memory of the slide except when I woke up at the bottom of the slide. I remember being on my stomach and facing the other way. From what onlookers told me, I apparently went ass over teakettle and tumbled down the whole 30-foot drop. I heard that several years later, they shut it down because another kid died. Lucky me.
Who was your first celeb crush as a kid?
Brendan Frasier. I wanted to grow up to be Rachel Weisz just so I could kiss Frasier in The Mummy.
What "childish" thing do you still do as an adult?
My boyfriend and I still build pillow forts, then we hunker down with wine and food and watch movies from it all night.
If you could retire today, what would you?
I would open an art studio and spend winters travelling to warmer continents. I'd also start a blog about eating doughnuts around the world. Send me your best doughnut recommendations (shout-out to Beignet City Market in Kansas City, Missouri — best doughnuts I have eaten across 3 continents so far).
If you were the 8th Dwarf, what would your name be?
I'm actually just Sleepy. I can nap twice a day and still be tired by 8 pm. My birthday gift from my friends last year was that they threw a party for me and let me go to bed by 11.