What better way to kick-start the weekend than with a Q&A with the lovely Trish-Collins. For this week's Model Citizens post, Trish-Collins opens up about her thoughts on the industry, her festishes, the obstacles she's overcome to find success, and how she's made peace with who she truly is.
How did you get started in the industry?
When I was a kid, I wanted to be a vet or wildlife ranger. However, as a teen, I had more tangible yearnings: I wanted to be a translator and then an English teacher. But there was a deep dichotomy between what I idealized and what my reality actually was. I quickly understood the usual 9-to-5 job was a no-go for me; it was not the life I wanted. I wanted to be an entrepreneur, to be independent.
A close acquaintance suggested I take a step toward the adult industry a few years ago and I loved the idea. I made a few attempts as a camgirl and erotic content producer before becoming Trish-Collins. It instantly became my most serious professional ambition – one that suited my life goal and personality.

As for Pornhub, I obviously knew the website because of its reputation! Since I started out with foot fetishes, I was afraid my content would be too specific to be liked on the website. However, I gave it a try, became more mainstream, explored new categories, and have absolutely no regrets.
Tell us a bit about your upbringing and how you got to where you are now in life?
I was born and raised in a working-class family in France. My life was basically a roller coaster of struggles and hard decisions, until now. I almost ended up homeless at barely 18. I went to public school and university, but that's very common and easy in France.
I had to work hard and stand up for my own values. I considered all options, established long-term plans, and hustled for success, even when I had no money and little hope because I didn't want to live the normal life, even though I happened to work in a videogame store on numerous occasions. To be honest, I take a bit of pride in realizing that I'm kind of a self-made woman who started from literally nothing and became a real entrepreneur. Sometimes, you just have to reject what people think is best for you and think for yourself, no matter the cost, no matter how alone you are. Everything I have today, I have it because it all paid off. I'm extremely grateful for that.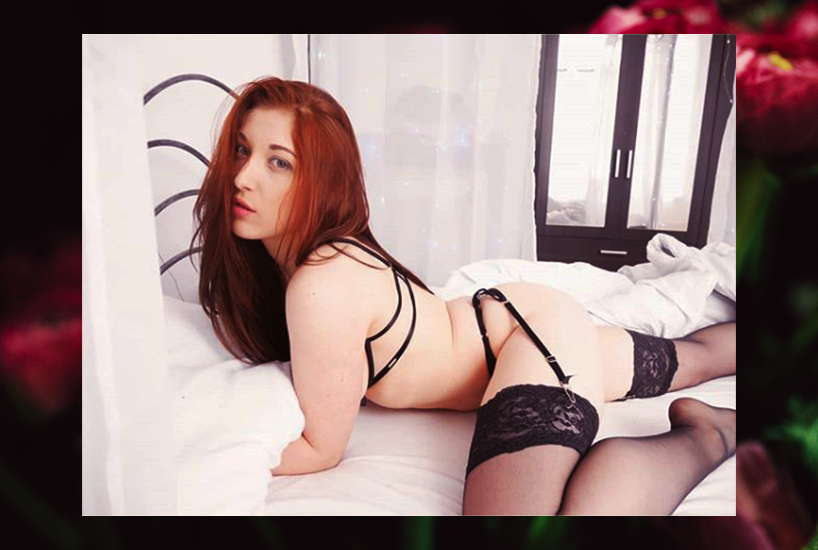 Courtsey of Trish-Collins
How has your perception of the industry changed since before you started?

It may sound crazy, but ages ago, I was pretty much anti-sex work before considering it, and I can't stress enough how ashamed I feel about it. I feel like the conservative media tricked me into thinking adult content producers were depraved and toxic people, doing porn because they had no other choice. I suppose this opinion also came from the fact that I didn't want to accept my own femininity and by extension, my own sexuality.
It took some time before I opened my eyes and got rid of this psychological burden. When I made peace with that part of me, I realized the adult industry was an awesome opportunity on so many levels. Growing up as Trish-Collins, I keep seeing more and more beautiful, intelligent, engaged, and peaceful people who love doing what they do. I'm so happy to be part of all this now.
Do you balance between your private and public self?

My golden rule is to never ever, under any circumstance, make my personal and professional lives collide. It is very important that I keep my real self separate from my public life. Other than that, it has not really affected my relationships – I'm an introvert and my friends are very open-minded. I just have to be more careful when choosing sexual partners now.
How do you use social media to your advantage?

I just try to post daily pics and stories, from sexy elaborated content to the most random and anecdotal things. I keep people updated about when I'm posting a new video or when they can catch me live streaming, but I also like to share recipes, geeky content, funny memes, and so on. You need to be as present as possible on social media, otherwise, you tend to be forgotten pretty quickly given that there is so much content to see on the Internet. You have to create a bond with your community – I try to convey the idea of a romantic virtual girlfriend, something that makes me look cute and reachable.

My favorite platform is definitely Twitter. They're porn-friendly and they have the funniest memes and community.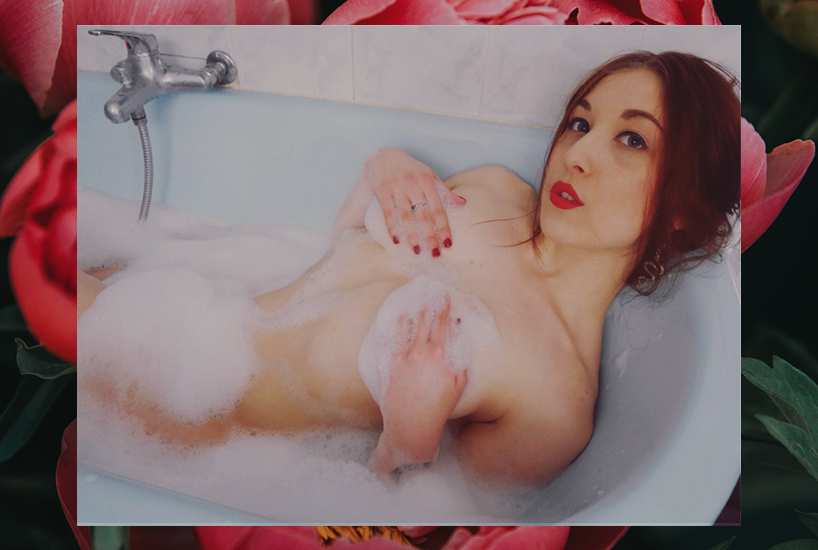 Courtesy Trish-Collins
How do you interact with your fans?

It depends on the platform. Even though I try to look reachable, I also like to keep some distance with my followers, partly because I'm not very good with social interactions and because I want to be a little mysterious. I answer comments or messages when they are relevant or when it comes natural to me, but I never force things. Some people are lovely, cool kids, and I love chatting with them, but I want to avoid the "hey sexy" type of interaction as much as possible. Just think of me as a little sassy cat!
Tell us about your camera and lighting setup? Any tech tips for new models?

From the beginning, I've been using my good old Panasonic Lumix DMC-GF7K with a Vario 12-32mm lens, and it has never disappointed! I love that it's affordable and has a rotary screen, which is very important when you're shooting yourself on your own — you want to see what's going on on-screen. Just make sure to buy extra batteries so you never run out of power while filming. As for the audio, I use a Blue Yeti which is useful for ASMR content as well.
When it comes to lighting, I often enjoy shooting with natural daylight, but sometimes I want to a romantic retro feeling to my content, so I use a studio kit with 3 lightbulbs, tripods, softboxes, and colored gelatins (pink, purple, blue, and red). You can buy this all on Amazon.
If you're new to the industry and are on a budget, I suggest you make a list of what you really need – most smartphones make awesome videos now, and you don't necessarily need studio kits when you have the sun. Whatever you choose, the only thing you'll definitely need is a tripod. Having sex, solo or not, while holding a camera can be tough, unless you want to do couple POV content only.
What do you accredit your success to?

It's all about regularity. No matter how depressed, uncomfortable, or lazy I feel, I always do my best to upload at least one video every week and one pic every couple of days. You can always find your audience – you just have to look for them. And the more you post, the more they are likely to see you and follow you. I just keep in mind that there's a fine line between quantity and quality, so I plan my videos well in advance and try my best to explore "en vogue" categories and add my own personal touch.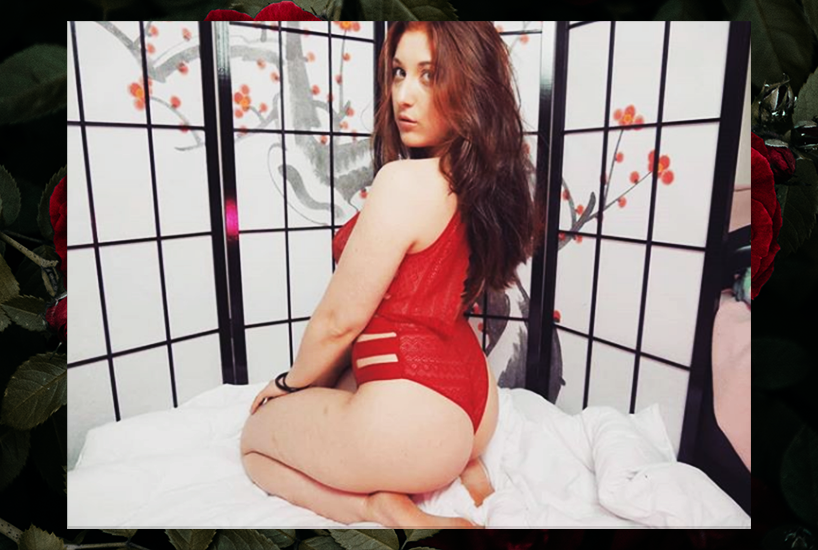 Courtesy Trish-Collins
Why the name Trish-Collins?

Although it isn't my real name, I do consider it my real virtual identity. Trish-Collins and my real-life self are alter-egos who complete each other.
The name was picked pretty randomly; I wanted something catchy, easy to pronounce, and have a Jane Doe feeling about it. Trish-Collins could be anyone — she's whoever you want her to be.
What sort of fetishes have you experimented with?

Cumlube became a huge fetish of mine, which is why I love doing Bad Dragon cumplays so much! I personally don't have a lot of fetishes, but this white sticky stuff coming out of a fantasy-monster cock is an absolute delight! It's like an enhanced and child-free version of a creampie — all the pros without the cons. Other than that, I have obviously experimented with all the foot fetish stuff when I still created that kind of content, and more recently, ASMR (a personal favorite, even though I don't enjoy it in a sexual way), and JOIs. I'm well aware it's not much, but I still have so many things to explore and discover! For instance, I'd love to make soft BDSM or daddy/brat content. I think I also have a thing for saliva.
If you could go back in time to when you first started on Pornhub, what's one piece of advice you would give yourself?

I'd tell myself, "Listen hoe, just stop settling for the minimum and put some more effort in your work. And don't be afraid to go mainstream, you'll love it you dumbass! "
Words of wisdom for our models?
Keep being awesome, love each other, and please listen to "Nightland" by Droid Bishop — it's my favorite song and I think you all may like it if you're into synthwave.
Follow Trish-Collins on Twitter for photos, vidoes, and updates on her next project.
Twitter @TrishCllns