Welcome back to Model Citizens, our weekly model spotlight series. This time around, we got the chance to chat up RaeLilBlack about her rise to the top. While she might still feel like a newbie, RaeLilBlack believes figuring out what makes her unique and not shying away from it is what's helped her become one of our top-trending models.
Somehow, this metalhead's found a way to balance her passion for sex and music, build relationships with her fans, launch new projects, and still find the time to study law and politics. If you're just as in awe of this beauty as we are, keep on reading and find out what got RaeLilBlack started, what turns her on, and what she's got planned for her fans this year.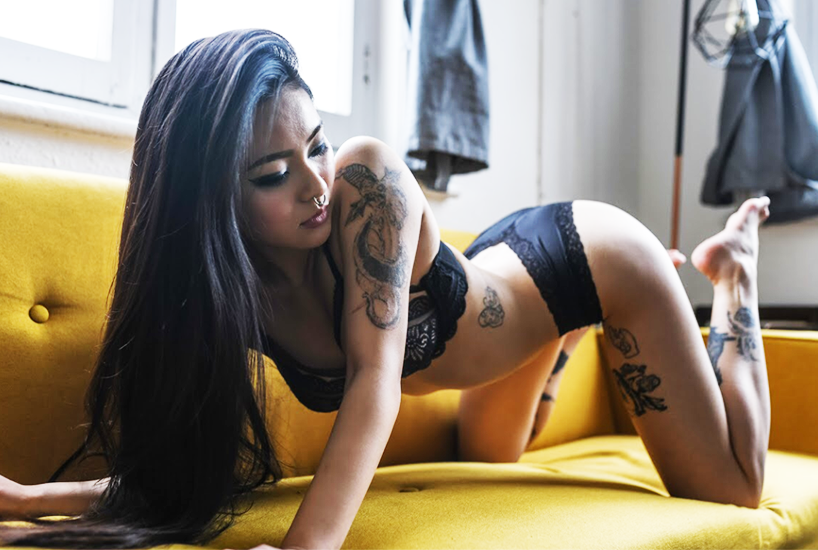 How did you get started in the industry? With Pornhub?
I actually don't know how I get started! I was always curious about this industry, and I've been so naughty since I was a little kid. First time I saw the Pamela Anderson and Tommy Lee sex tape, I was like, "Okay, this is so cool and they look super happy. I want to do this in life!" Since then, I've dreamed about being part of the porn industry.
I've been filming for years and always enjoyed watching my videos. I did some Japanese adult videos (JAV) right after graduating from high school and I did some escorting, too. So I guess I've been in the sex industry since I was 18, just not always as Rae.
I started my career as RaeLilBlack after I moved to Europe when I was 21. I was finally living by myself, away from my family, so I had a lot of free time. I got to travel more, meet a ton of different people, and, of course, had a lot of time to watch porn!
Then, one day, I saw a Pornhub payment program ad and thought to myself, "Why not? It's time to make my dream come true!" And that's how I got here.
Why the name RaeLilBlack?
I didn't think much about it actually. I wanted to start as soon as possible and figured I could always change it if I wanted to. So I included my favorite name, "Rae," which means cold, cool, and beautiful in Japanese. I put "Lil" because I'm short, and "Black" because I love the color. It kind of sounds like a rapper, right?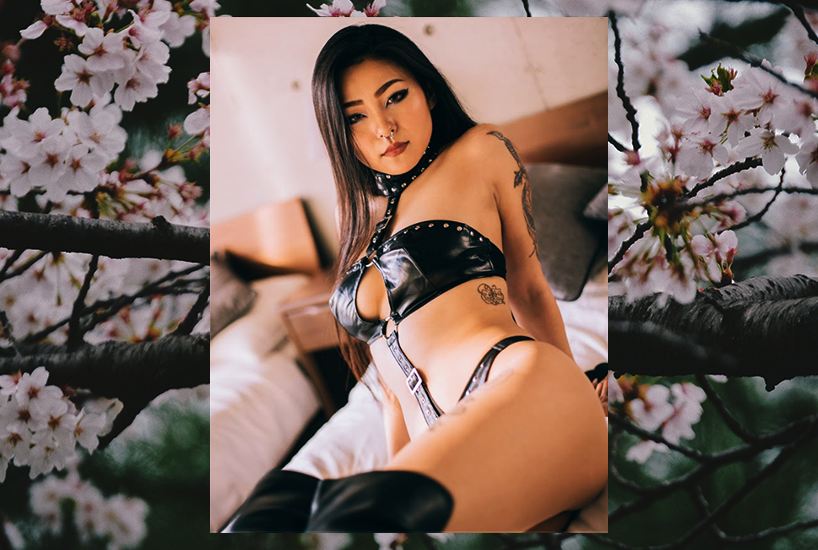 Photo courtesy of RaeLilBlack
What was your perception of the industry before you got started? How has it changed? Did anything about it surprise you?
I always had the impression that this industry is fun, but also a little scary. I still think that. However, I don't know much about it and I don't have many friends in the industry. As far as I know, all the people I've worked with so far are kind and friendly. However, I'm in Japan, so I feel a bit isolated at times.
How do you use social media to your advantage?]
I try to engage with my fans as much as possible. I usually use Instagram and Twitter to update my followers on my daily life. I also have a backup Instagram account where I only post about music and my CD and vinyl collections.
I know I'm not super beautiful or in great shape — I'm normal — but I bet I love music more than any other porn performer. Thanks to this backup account, it's so much easier to connect with music fans. We exchange information about festivals, new releases, good gigs, and other random music-related stuff.
I also try to reply and comment to every nice and funny message I receive in all of my accounts. This way, I can develop a relationship with my followers. I love it and I hope they do, too!
Of course I use social media to promote content and profiles, but I use it more to interact with fans and other adult performers.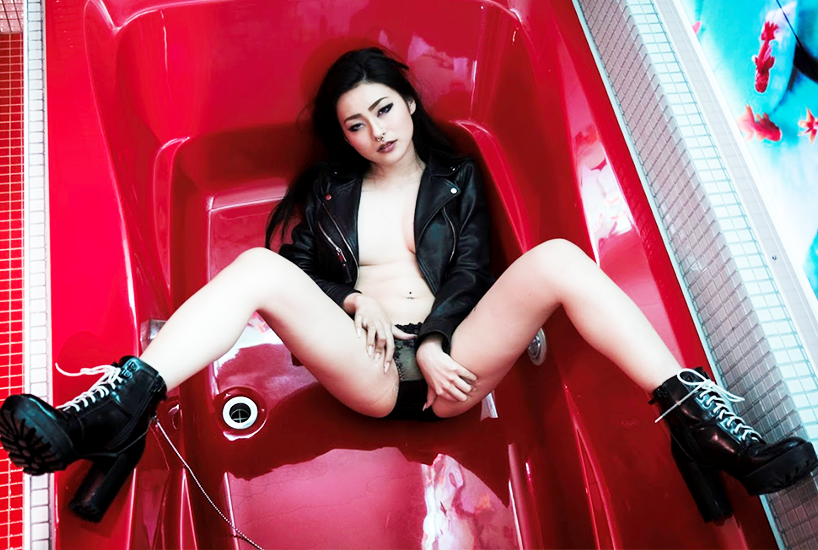 Photo courtesy of RaeLilBlack
How do you market yourself?
I identify my niche and build a community. There aren't many Japanese performers who have tattoos and piercings. The Japanese stereotype is "kawaii," meaning "cute," but I wanted to show people that we can be hardcore inside and out!
Also, there aren't many performers who are also metalheads out there. So I guess that's one of the things that makes me unique.
How do you interact with your fans?
I usually interact with fans through Twitter and Instagram. I also communicate with them through Pornhub. For example, when I get a tip, I try to send a friend request to that person on Pornhub and send them a thank you message.
Right now, I've got a ton of ideas and plans for my YouTube channel. This was actually a request from some of my fans. I got so many people messaging me saying, "I want to see you talking," "I want you to do an album review," "I want to see what your life is like in Japan." So I've got some upcoming projects and I'm trying to give my fans what they want to see.
I think it's actually really cool that my fans are trying to get to know me and my personality rather than only care about my naked body!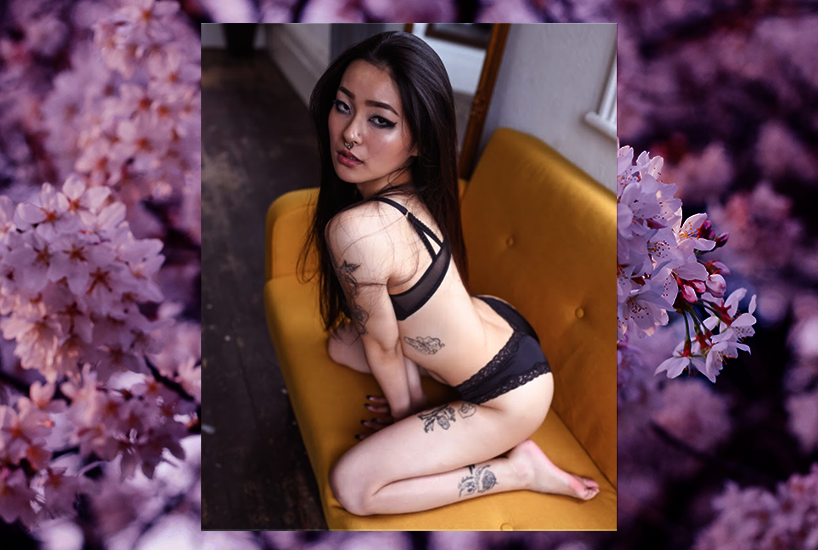 Photo courtesy of RaeLilBlack
Tell us about your camera and lighting setup? Any tech tips for our new models?
My camera is just a normal Handycam with 4K quality. I recently started using a ring light. As you can see, my videos have that homemade, amateur look to them. I'm still learning.
Tell us a bit about your upbringing and how you got to where you are in life?
I was born and raised in Japan. I lived in Germany for one year when I was about 20 years old. I'm still studying at a Japanese university and I'm majoring in law and politics. (I love being smart and also slutty. It's really sexy, isn't it?)
I love music and I love sex. My life might be a roller coaster, but those two things never change. That's why I'm here on Pornhub as a metalhead!
What fetishes have you experienced with?
I can actually enjoy anything! However, one of my biggest fetishes is sweat and the smell of it. I can literally get instantly horny by just looking at a sweaty T-shirt. Dick pics don't do it for me, but photos of sweat gets me really excited!
Watching someone pee also does it for me. I often go to the washroom with my friends and just watch them pee!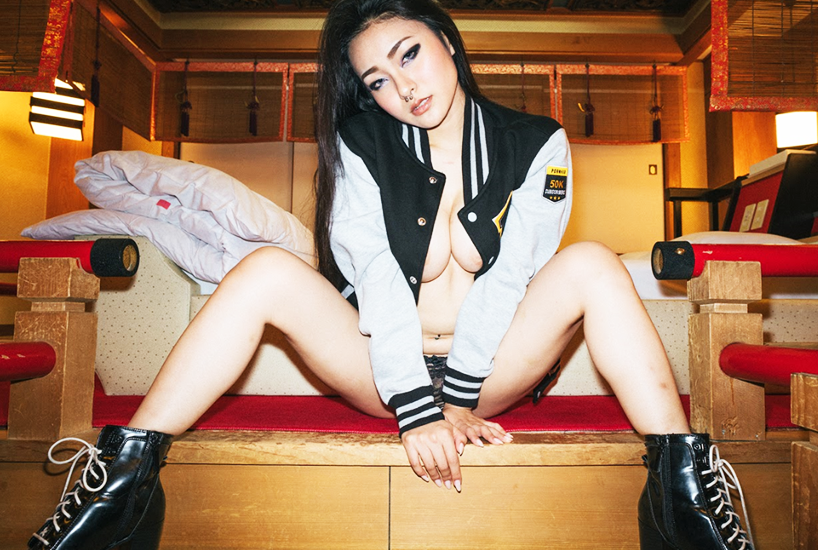 Photo courtesy of RaeLilBlack
If you could go back in time to when you first started on Pornhub, what's one piece of advice you would give yourself?
I would tell myself, "Only care about people who care about RaeLilBlack." You get criticized a lot. People can be mean and racist sometimes, but you have to remember that so many others support you. Do what you want for yourself and for the people who love you. It's still difficult at times, but we got this!
Side note: Care about lighting a little more!
Is there anything else you'd like to share with your fans?
Thank you so much for reading this interview, for supporting me in every way, and showing me respect! I couldn't keep doing this without my fans, my friends, colleagues, and the Pornhub team.
If you want to start producing porn, ask for help and advice either from me, other performers, or the Pornhub team. I might bite, but others won't!