by:
pornhub
The Big Titty Goth Girlfriend trend has been fun to watch go viral, especially for us former freaks who were teased for our goth aesthetics in high school. But we're feeling a little monogamous today, so there can only be one big titty goth girlfriend on Internet, and we're giving that title to BigTittyGothEgg! You know her, you love her, you want her to be your girlfriend. We chatted with the bite-sized babe about her rocketing success, the liberating power of content creation, and yes, we address the mystery behind her stage name!
Tell us about your start in the industry.
I began during the pandemic in 2020. I had been working full time at Target and was going to college for oncology. I went on a temporary leave from Target to avoid getting sick from covid. During that time I randomly decided to make a Tiktok account and make a video to kill time. I was surprised when it did well, so I just kept making them. Eventually I started getting asked "do you have an Onlyfans or more content to see?" With overwhelming demand I decided to start making adult content for fun. After being on TikTok and Onlyfans for about a month doing mostly lewd content, my following exploded from a single TikTok involving my height being compared to my fridge. I started making content on Pornhub to have a place for my fans that couldn't afford/didn't want Onlyfans content. Pornhub still serves as a great way for me to connect with my audience and get some free content out to them. I have only been a solo performer for about 2 years but I have tons of fun, especially with the funny community on Pornhub and their goofy comment section.
What's the story behind your unique stage name? What do you prefer your fans call you?
My fans can call me goth egg, bigtittygothegg, Leah, or Lee. The name originally started as my TikTok username and it was a play on "Big Titty Goth GF" though I eventually had to shorten it to Goth Egg because Tiktok doesn't accept the word Titty hahaha. The word egg means nothing and it was just a silly name I came up with. I didn't expect it to stay, but I'm happy it did.
Is Big Titty Goth Egg a character you play or are you one in the same?
It's just me, not a character. I put as much of my own personality into my content as I can. Leah before becoming Big Titty Goth Egg was very shy and this industry has brought me out of my insecurity and shyness. My work ethic has definitely come in handy and I feel like a much better version of who I was when I began.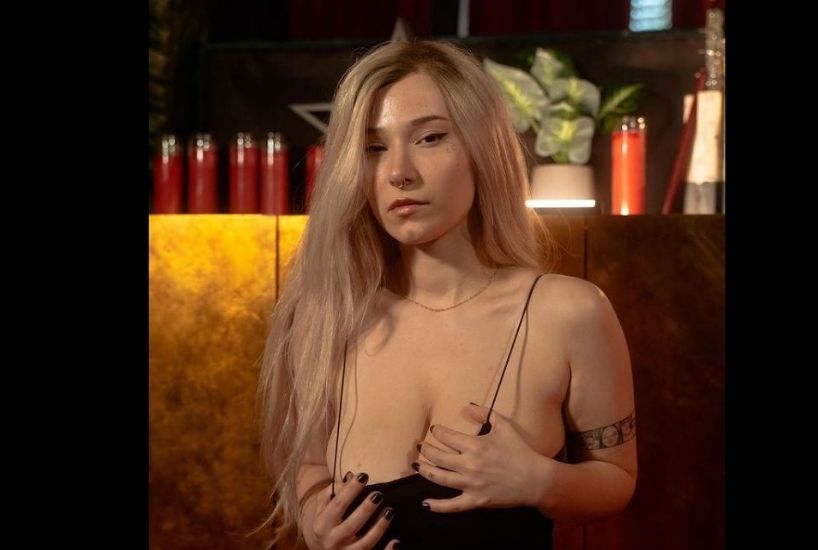 What did you find difficult in the beginning? Was there anything surprisingly easy?
I didn't have much access to the internet growing up because we couldn't afford it, so having an online job was a massive learning curve. The biggest challenges were cameras, editing programs and keeping up with the massive volume of fans. Everything has gotten much easier over time and I've learned so much! The most surprisingly easy part was my online personality, I didn't have to hide who I really am and I still continue to get so much freedom to be who I am and speak my mind.
You seem to have blown up overnight. What do you attribute your success to?
Tiktok is where I blew up, and I think it's mostly because of the timing when I joined. Being a busty goth girl definitely catches attention because of all the memes about them and my height is always surprising to people as well (I'm 4'10").
How has your perception of the industry changed since joining?
I never realized how much work goes into producing video content. I have a ton of respect for those who go into this industry, and have also gained a better understanding of why people join it in the first place. The industry isn't nearly as scary as I had thought and there are tons of amazing people who are always willing to be a friend and lend a helpful hand.
Have you learnt anything about yourself since starting this journey?
I have learned much more about my values and have proven to myself that I can think for myself. There is a lot of opposition and negativity towards adult performers but being true to yourself is very important. Before joining this industry, I wanted to be doctor so I could help those with cancer, and hopefully financially support my family and friends. It's a blessing that at 22 years old I can support everyone I love and care about in my life. Donating to charities, helping my friends and family, and having time to work on my artistic skills and fill myself with knowledge is something I could have never even dreamed of at such a young age. I am very grateful to have a job where I can follow my moral compass, help others around me, and have a choice in learning any skill or topic I want!
Tell us something about yourself your fans would be surprised to learn.
I have only ever had sex with two people in my life, both of which were long term relationships. Most people think if you're in this industry you must be sexually active or promiscuous but I'm very reserved in regard to who I am intimate with. I didn't know much about porn or anything like that prior to starting. It's very nice being able to work solo and within my comfort zone.
When you're not working, what can we find you listening to, binge watching, or reading?
I listen to lots of different genres and have a huge appreciation for music. I primarily listen to rap, EDM, metal, alternative, and indie, but I really enjoy switching between a wide variety. I watch a lot of YouTube, Mike Tyson Mystery Team, Rick and Morty, and anything else that is fun to unwind to. I also love anime and some of my favorites are Mob Psycho 100, Erased, JoJo's Bizarre Adventure, Food Wars, Spy Family, and HunterxHunter. I still have tons of animes I want to watch and always love to hear suggestions from my fans :)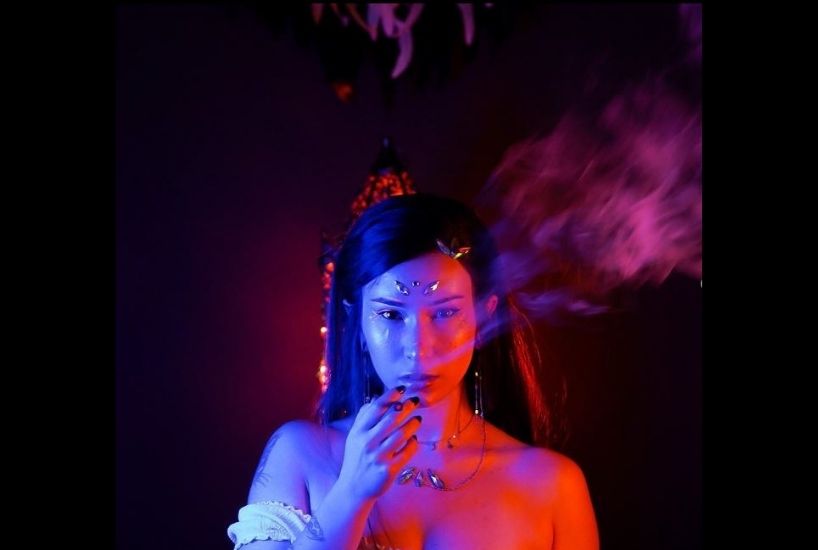 What porn cliché is so overrated?
I think the most harmful porn cliche is the idea of a "BBC". It creates an unrealistic expectation for men who may already be struggling with confidence in their size. I think it harms just about everyone too, being a black man with an "average" dick size may be trumped by the fact that someone is expecting a "BBC" because of how porn portrays it.
What advice would you give Models who have just joined or are thinking of joining the industry?
Try to make sure you always have someone you can talk to. This type of job can be overwhelming and detrimental to your mental health if you don't take the time to get away from it and notice that a lot of the negativity is fake. I have good friends I can talk to when I get too overwhelmed or if my confidence is taking a blow. Try to make sure you have a good support system and stable living environment because there can be many negative emotions surrounding this type of job in your real life, such as family and friends opposing it.
What's next for Big Titty Goth Egg? Have you consider studio work in the future?
I don't think I would like to do studio work in the future, I have an amazing time working by myself in the comfort of my own home and I love doing the camera work myself. I may include a partner in the future, though I am waiting until I find someone I'm very comfortable with:). Other than that I'm not sure whats' next, I try to keep the future open and always have fun with what I'm doing. I may be joining twitch or something like that in the future to get to interact with my audience more and I'm super excited!
Plug any projects you want to share!
Check out my videos on Dick Size and how to handle insecurity surrounding it! I do lots of fun Q/A on my Instagram stories and give out lots of advice so be sure to check it out sometime!