by:
pornhub
Chickens, and wolfs and bears, oh my! You may have seen some of these terms used on our website and wondered what place a 'breeding puppy' has on the Hub. We're here to demystify the lingo used by the content creators in our LGBTQ+ community!
Even the most seasoned pervert can find themselves confused by some of this terminology. Of course, it's not like the LGBTQ+ community chooses language deliberately to confuse the uninitiated (though for some in the community it is certainly a source of amusement that it does). Rather, such phrasing has been historically useful for members of this community to identify and speak to each other in a safe way.
Private communication is made easier with the proper vocabulary, which is why terms like "puppy," "gold star," "pillow princess," and many others came into being. While to an outsider some of these terms may seem strange, even demeaning, they are essentially a code for members of the LGBTQ+ community. Far from being demeaning, these terms offer a way for community members to feel empowered since the language has been created or appropriated from within the community.
Who knows, some of your favorite skin flicks might very well have been produced by proud members of this diverse community. That's why we've created the LGBTQ+ Lexicon as a starting point to help you familiarize yourself with this special language. We're not only committed to being the best place for you to get your porn fix, but also one that can teach you something important. After all, bringing people together is what we love to do and what better way than through educational adult entertainment!
There's a lot of information online about the gay community, however some of it is rather incomplete, and sometimes downright offensive. We hope to clear away some of the confusion and offer you a clear and detailed breakdown of some of the terms commonly used by lesbian, gay, bisexual, transgender, queer, and pansexual groups. The terms on this list, which is by no means exhaustive, apply to the entire community, irrespective of orientation.
Keep in mind that while the terms we're outlining for you are often used in a very playful sense, they can also carry a lot of historical and social significance. We've tried to provide definitions that are commonly used and best represent their respective communities; however, there may be variations depending on geographic location. Always be respectful when using this language – or any language – and be aware that these terms may mean different things to the different people that make up the LGBTQ+ community.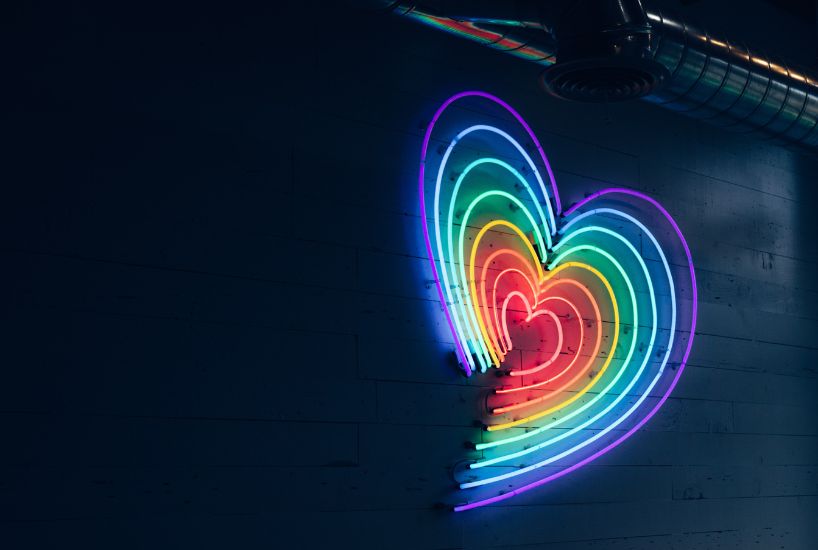 courtesy of unsplash
Bear: Perhaps the most well-known subgroup of the LGBTQ+ community, "bear" signifies a strong and mature man with plenty of body hair. Often bearded, bears are passionate, experienced, and caring, embodying the expression "hard on the outside, soft on the inside." There are some subclassifications, too, like the polar bear who has white hair.
Cub: A subgroup of the bear community, "cubs" are typically in their teens or 20s. With the proper training and dedication, cubs may blossom into glorious, burly bears when the time is right!
Gold Star: Refers to a lesbian who has never had sex with a man. "Gold star" has provoked some controversy due to some feeling it is derogatory towards toward bisexual women. On the other hand, others in the LGBTQ+ community may use it as a humorous rejection of heterosexuality.
Chicken/Twink/Twunk: A "chicken" is what the LGBTQ+ community considers the opposite of a "bear." "Chicken" describes a body type: demure, effeminate, and with little to no body hair, chickens are usually quite thin as well. When in their late teens and twenties, they can be called "twinks," and once slightly older and more muscular, they are ordained as "twunks." At some point after that they may start being called "chickens."
Otter: An "otter" is someone with a body type that is too muscular to be a twink and too slender to be a bear. Otters fall somewhere in the middle; sporting medium builds with some body hair. An otter is never one to shy away from a little manscaping, though always doing so within reason, leaving just the right amount in the right spots.
Wolf: A "wolf" is very close to an "otter," with both sporting medium builds and more body hair than a twink but much less than a bear. However, they differ in that the wolf can be quite sexually aggressive and are best handled by older, more experienced partners or the most energetic of 18+ teens.
Unicorn: A "unicorn" is a bisexual person, usually female, who wants to have sex with a couple, yet doesn't expect or require a non-sexual relationship with either of them. Sounds incredible and somewhat impossible, right? That's why we call them unicorns. Unicorns are rare, but if you manage to find one can be a fabulous addition to any open-minded couple's "no strings attached" sexcapades.
Puppy/pup: "Puppy" or "pup" refers to someone, mostly in the gay community, with a very specific kink: they want to be treated like a dog – and maybe have sex like one, too. Within this type of roleplaying, each puppy has a handler who treats the puppy with love and affection, just like they would a real dog. With its relaxed power dynamic and emphasis on tenderness and caring, this type of roleplaying is on the "warm and fuzzy" side of the grand spectrum of kink.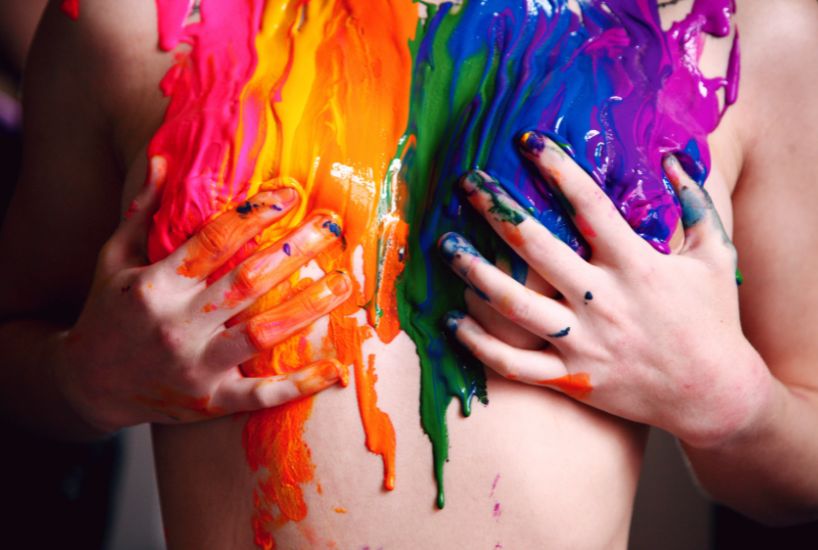 courtesy of unsplash
Enby: "Enby" is a term used for someone who doesn't identify as a man or as a woman. Enby is the phonetic pronunciation of NB, as in non-binary.
Butch: "Butch" refers to a female, usually a lesbian, with masculine characteristics or style. "Butch" is in contrast to "femme" (see next entry). They often attract partners who have a similar look and style.
Lipstick Lesbian/Femme: A "femme" is a very feminine lesbian that is delicate, beautiful, and very comfortable in a dress and heels. In appearance femmes may match the archetypal or societal definition of what a woman "should" look like in a similar way that many straight women do. At pride events, femmes can often be seen hoisting a red, pink, and white striped flag with a lipstick kiss symbol on the top left.
Stud: "Stud" in the LGBTQ+ community often refers to a Black butch lesbian with a penchant for sexual dominance. Those who identify as a "stud" may also refer to themselves as "AG" ("aggressive").
Breeding/Breeder: "Breeder" was originally used as a counterattack from the LGBTQ+ community on straight or binary people who have kids. While this term may have been originally conceived as a slur, more recently gays, lesbians, and other enby orientations are having kids, too. As a result, "breeder" now simply refers to anyone who has a lot of kids and ultimately leaves behind their own lifestyle in order to focus solely on family. In the adult industry, "breeding" videos often refer to a man ejaculating in another man.
Bareback: "Bareback" refers to the practice of having sex without the use of a condom and is a very popular niche in gay porn. Also referred to as "Raw Dog".
U-Haul: This expression, in reference to the popular moving van company, is based in a joke that calls out the tendency among lesbian women to get very serious in their relationships very quickly. The frequency at which some couples form intense emotional connections has resulted in the joke that lesbians will often bring a moving van to their second date. This has also been referred to as the "urge to merge."
Celesbian : A combination of the words "celebrity" and "lesbian", this popular term in the LGBTQ+ community describes female celebrities that identify openly as lesbians. A celesbian can sometimes refer to a female celeb that has portrayed a lesbian on-screen, and is also suspected of being gay off-screen.
Pillow Princess: "Pillow princess," while sounding attractive and glamorous, simply refers to those passive LGBTQ+ members who prefer being on the receiving end of sexual pleasure rather than be as generous with their partners. They are better suited to those who love being the dominant one and take control.
Other terms include packing, passing, tucking, cruising, and more, many of which describe what is being done or how it is being done. We promise: if something can be done, there's a word for it.
While there are hundreds of words and expressions we didn't go over in this short list, we hope this post at least gave you a good starting point to better understand some of the jargon you may have been curious about. There's a whole beautiful, colorful world out there just waiting for you – now go explore it! Ultimately, we're all just people, many of whom enjoy a lot of the same things. Appreciating the differences while celebrating our similarities as horny humans is what we at Pornhub love to do.
So, who came first, the chicken or the twink? It doesn't matter, as long as they both came, if ya know what I mean. Whether you're a chicken or a goose, make sure to take a gander at Pornhub Gay.
Ok, we're done with the bad animal puns. Happy Pride today, tomorrow and every day.