May is Asian American & Pacific Islander Heritage month, so we sat down with our very own Pornhub Ambassador Asa Akira to chat about the intersections of race and porn in a time where the narrative around identity, sex and culture is changing at an incredibly fast pace.
In Pornhub's last Year in Review, "Hentai" was ranked the #1 most searched term on the hub followed by "Japanese". The year before, "Japanese" was #1 followed by "Hentai". "Pinay", "Asian", "Anime" and "Korean" also cracked the top 20 in 2021. What do you make of this significant interest in Asian search results?
I don't know if it's pop culture that reflects porn, or if it's porn reflecting pop culture, but I think there's a huge interest in hentai, anime and Japanese culture in general, so it doesn't surprise me at all that those are in the top spots. Even in my personal life, I have so many friends that are crazy into anime that can sing full songs in Japanese just because it's the intro of an anime. Internationally when people think of Asian entertainment, I think Japan reigned for a long time, but I think Korea is coming for us! Korea surpassed Japan music-wise and soap opera wise too.
When it comes to Asian representation in pornography, there seems to be an over-sexualization of Asian women, and an 'a-sexualization' of Asian men. Where are all the straight Asian men in porn?
The fact that I'm even about to say this is such a reflection of that, but, in the entire time I've been in porn, as far as mainstream, straight porn goes, not including fetish or gay, I've only seen one other Asian male pornstar and that was Keni Styles who doesn't shoot anymore. It's really exciting to me see someone like Leo Vice because we need that representation.
My ignorant theory is that our culture is really different when it comes to family and the way we view our families. This is just anecdotally but what I've seen being in the industry for 13 years is that when an Asian star starts becoming a little bit famous, and their families find out, they quit right away. We're not doing anything bad but I think there is a lot of pressure coming from our families to do what pleases them over what pleases ourselves.
I tell people all the time, and this is a crass way to put it, but if you're Asian, there's a high demand, low supply. If you're Asian and you want to get into porn, you're kind of guaranteed a certain amount of success. Not necessarily mainstream success in general, but you will get a certain amount of work just because there's always going to be Asian content and not a lot of Asian stars.
Have you been asked to play up offensive stereotypes?
I can't even tell you how many movies I've been in called like, "Kung Fu pussy", "Shrimp Fried Vag" or "Oriental Babysitters".
Since you started do you think there's been an improvement in the way that Asian adult actors are being portrayed?
I've been in the industry for 13 years which doesn't sound like a lot of time in the grand scheme of things, but there's been such a huge shift for the whole world in general in that time. Race-wise, LGBTQ rights-wise, we're in such a pivotal moment right now. Things were changing so slowly and now it's happening so fast.
I think if a company were to try to name a movie, like, "Shrimp Fried Pussy" or whatever now, it would be really hard to get away with that. And that wasn't the case even five years ago, it was totally normal. For me, I can't say that I was shocked or hurt by it, just because when I got into the industry, I was aware of it, I signed up for that.

My views on it have definitely changed as the world has changed and as I've matured into an older person. I used to think, like, "Yeah, why not capitalize on it?" I also used to see fetishization as flattery, "Oh, people think I'm hot, why is that bad?" Now I realized that fetishization comes with objectification and other things.
I'm still kind of figuring it out. On the one hand, yeah, it's 100% objectification, but I'm also kind of, like, is that the most terrible thing in the world to objectify our porn stars? Like, I would never want to be objectified or fetishized in my personal life. In my personal life, I hope that people see me for who I am before they see me as just an Asian person, as just a woman even. I want to be seen for my personality and my thoughts and my feelings. I don't know if I'm that upset that people don't see me as anything but a porn star. But maybe in a month, I'll be saying something totally different. I hope that we're heading in a direction where we can normalize changing our minds and growing! I've definitely said tons of things in the past that I don't agree with anymore and I can admit it was wrong. That's growth. Now, I'm a new person.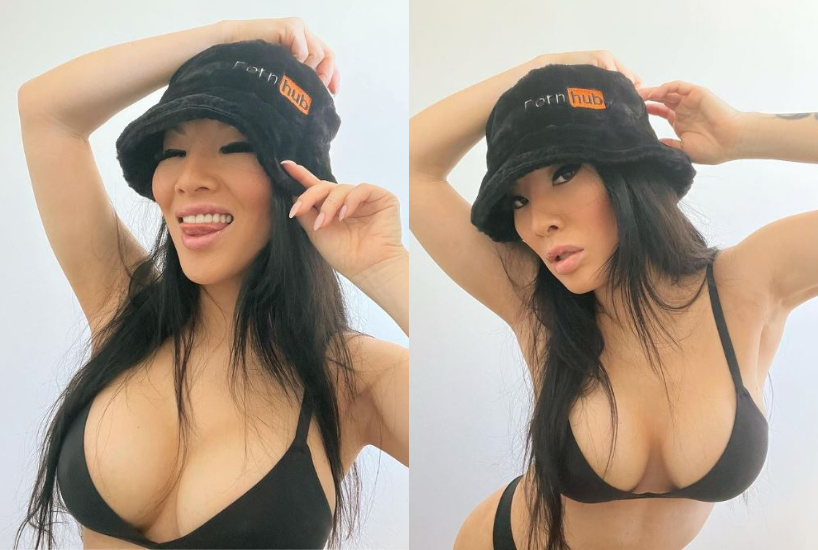 courtesy of Asa Akira
Do you think you've changed the way you deal with racist remarks throughout your career?
Any non-white person in America experiences racism, whether we're aware of it or not. I think there's been so much conversation around racism in the past that didn't include Asian people. A lot of Asian people in America did not grow up thinking about racism against themselves, and a lot of it has to do with this model minority narrative. And, you know, I think a lot of us are just kind of now realizing like, "Oh, shit, that was super racist!" If you stopped and nitpicked every racist thing that fucking happened to you daily, that would be paralyzing. You wouldn't be able to live your life. I think a lot of it is just ingrained in us so much in a way that we've learned to just move on with our lives without thinking about it or harping on it too much.
In the time that I've been in porn, I do feel and react very differently. I feel really lucky because I got into porn when I was 23 years old, which sounds young, but porn-wise is old. I was at a point in my life where I was already somewhat comfortable saying no to things in a room full of people that expected things of me. I got into porn with this feeling of "if something doesn't feel sexy to me, I'm not going to do it!" And I've been able to stick to it. Anytime I've ever been asked to like, speak in an Asian accent, which I don't have, and don't find sexy, I just don't!
If I had gotten in when I was 18, there's no way I would have been able to say "no" when five people around me are saying, "We want you to do this. Trust us. It'll be great." And I have been in that situation, but because I was older, I was able to say "No, I don't want to do that." And that was enough.

Do you have any advice for younger performers just getting their start in the industry?

"I don't feel like doing that" is a good enough reason to say no. You don't need to explain yourself in a hundred different ways and cater to people. If you don't want to do something, and if it doesn't make you feel hot or horny, don't do it. It's fine.
Once you're in porn, talking about sex quickly becomes very normalized. We're so comfortable talking about our boundaries, what we like or don't like, it gets easier because the conversation is "sex" all the time; I can just say "don't eat my pussy that way". In the real world, we don't have that luxury because we talk about sex so sparsely, even saying what we like is hard. How are we supposed to say what we don't like? That's even harder.
Are there any Asian-American artists in general that you think people are sleeping on?

Until five years ago, the fact that I was one of the most famous Asian people in America is pathetic to me! I would say though in the last couple of years there's been so much representation for Asian people in entertainment. Maybe it's not underrated, and people aren't sleeping on it, but I just saw "Everything, Everywhere All At Once" and it's literally my favorite movie now. There were moments that I cried because I was so proud that people in this country are going to see a movie made by Asian people that's hype-worthy, I really hope people go see that!
In porn I think Jada Kai is someone who's so fucking awesome, I hope she really explodes and does so well. There's Connie Perignon, she just started doing mainstream porn and shot a scene for Jules Jordan, I just think she's so hot and so sexy. And of course, Leo Vice who I mentioned before.
Where do you think real change comes from?
We need platforms to stop seeing Asians, Black people, Hispanic people, etc. as the other, or as the spice, as the niche. They need to put us in front and center just like they would the white performers. It's important because I think that really informs the viewer and the world. I mean, everyone watches porn, we inform the viewer, and there's this harmful narrative that we have been fed for the last few decades, that white is the most desirable, sexy thing. And the reason why there are more white performers is because, like, that's what people want to see. It's framed as "what are we supposed to do? We can't put anyone else on the cover because that's what sells". It limits everyone. Because companies are showing a lot more diversity, I think now more than ever people able to open their minds and think "Oh I don't only like white girls". I think the industry as a whole has a responsibility to push more people of color.
Any parting words?
I've had a really, really, really lucky career. The right people shot me at the right time. I said before that when you're Asian, it guarantees you a certain amount of work in porn, but there's also such a ceiling! Pornhub is an amazing fucking company for choosing me as a brand ambassador. Porn almost never chooses a non-white person to represent them as a whole, it just doesn't happen. We're still in a place where most companies, if they're going to choose one person to represent them, it's going to be a white girl, and maybe they'll pick an Asian person as like, the fourth representative, you know what I mean? But Pornhub picked me as their only one like a million years ago, and that's huge. I think that needs to happen way, way, way more.
Keep up with Asa Akira on Twitter: @AsaAkira & Instagram: @Asahole