Pornhub is proud to present its latest project "Pornhub Literacy 101", a comprehensive guide on how to interact with the platform best and most safely, while underscoring Pornhub's continued and unparalleled commitment to trust, safety, and transparency.
Pornhub Literacy 101 is a 6-part video series directed in collaboration with acclaimed author, director, sexual wellness researcher and founder of The Sex Ed, Liz Goldwyn. This series serves to further educate users on Pornhub as a brand, platform and emphasize the priority placed on cybersecurity, trust and safety and the rigorous, industry-leading safeguards dedicated to keeping Pornhub a safe space for content creators and the community at large.
Watch Pornhub Literacy 101 Trailer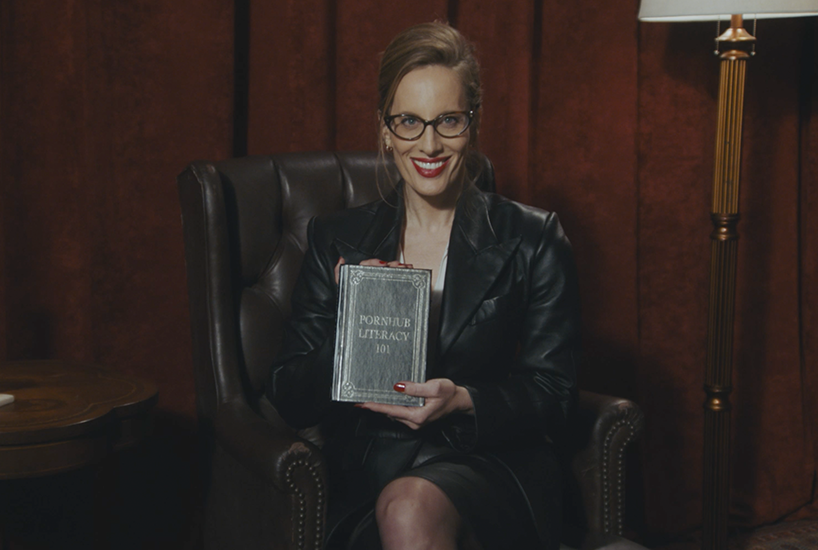 In addition to Phantom Planet frontman Alex Greenwald creating music for the series, famed costume designer Heidi Bivens of HBO hit Euphoria, styled the project to reference the lexicon of Golden Age Hollywood. "While designing costumes for Euphoria, I was impressed by the show runners' openness to casting adult film actors in roles which they might not usually be considered for and treating them with respect and dignity. Liz's work to shift the public consciousness surrounding sex and health promotes safe spaces for people to explore these topics and helps to humanize those involved." said Bivens of the collaboration.
Pornhub Literacy 101 is the first visual representation of Pornhub's core values: consent, freedom of sexual expression, authenticity, originality, and diversity. It provides further transparency and education around how users interact with the platform and emphasizes the priority Pornhub places on cybersecurity, trust, and online safety, which includes a zero-tolerance policy for the sharing of any non-consensual images. The series also reveals the rigorous, industry-leading safeguards dedicated to keeping Pornhub a safe space for content creators and the community at large.
The series features some of the adult industry's biggest stars, including Pornhub ambassadors Asa Akira, Kira Noir, Natassia Dreams, and Pornhub Aria, as well as Pornhub models Emily Willis and Ricky Johnson.
Each installment of Pornhub Literacy 101 is between 2-4 minutes & available to view now.
Lesson 1- What Is Pornhub with Kira Noir
Learn how Pornhub has set the industry standard when it comes to preventing illegal and unwanted content from being uploaded onto its adult video sharing platforms.
Lesson 2- How Does Pornhub Support Its Community with Asa Akira
Pornhub's Sexual Wellness Center is a robust platform offering the latest in health advice, sexuality research, and resources to healthy and secure approaches to various kinks, unconventional sexual practices, and so much more. Viewers will also learn about Pornhub's philanthropic arms, raising money for a range of global initiatives including sex worker activist communities.
Lesson 3- How does Pornhub support models with Ricky Johnson
Find out the tools Pornhub models have at their disposal to swiftly eliminate unwanted content and more.
Lesson 4- How does Pornhub keep its community safe with Natassia Dreams
The importance Pornhub places on support, trust, and safety are reviewed with tips on how content creators and performers can further enhance their safety on the site.
Lesson 5- How does Pornhub keep its platform safe with Emily Willis
Get to know how seriously Pornhub takes the sharing of non-consensual images and the strong measures it has in place to ensure the safety of its community and protect the platform from unwanted content.
Lesson 6- What is Pornhub's stance on trust and safety with Pornhub Aria
Attempts at uploading non-consensual materials are an unfortunate reality that all user-generated platforms encounter. Learn how Pornhub's safeguards are designed to catch unwanted content before they are ever made live on the site and what sanctions are enforced as part of our zero-tolerance policy.