Stevie Trixx joined the industry four years ago, and in that time has found a space to create and embrace sex as art. On the heels of Trans Awareness Week, Stevie offers insight into the experience of being a trans performer, debunking misconceptions about the industry and the importance of boundaries
When did you get involved in the adult industry/ how many years have you been a performer?
I've been in the industry for about four years. I did my first studio shoot in spring of 2018 and then started making my own content in late 2018. I've been at it ever since!
How did you get your start? What was it about the adult industry that appealed to you?
When I got started I was in between jobs and just looking for a little extra income to keep me afloat. I've always had friends and partners involved in the industry, so I felt like I had a good sense of what it was really like and found it intriguing. I wasn't even sure if I could get work as a trans guy, but I pretty quickly realized that there was interest. When I got offered a studio shoot, I decided to give it a shot and wound up really enjoying it. That year I noticed that I was building a little following on social media, so I started making my own content to sell, and I haven't looked back!
What did you find difficult when starting out? What did you find pleasantly easy?
The difficult stuff for me has been the logistical things, trying to find people to work with and coordinating schedules with other performers. It's a lot of social media work and answering emails which is not at all my forté. I've definitely learned a lot in these past few years! I've found that I love the creative elements like setting up shots and taking photos and editing. I don't have a background in any of that stuff, but I've picked it up pretty easily because I enjoy it and find it satisfying.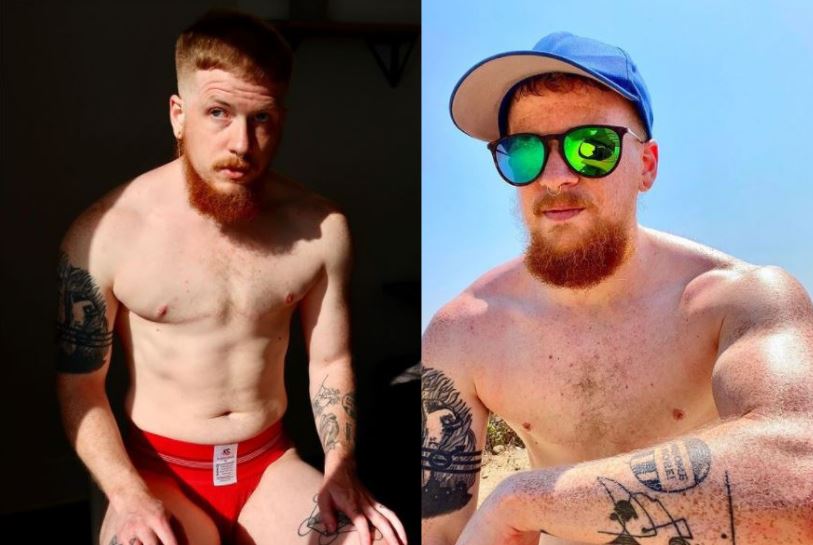 courtesy of Stevie Trixx
How do you think your experience as a trans performer in this industry differs from that of a cisgender performer?
The biggest difference for me personally has been access. Studios are still very reluctant to work with trans men, and it's challenging to find other performers who want to make content with us. I do see this starting to change, but it can be frustrating to see myself and other talented trans men build big followings but fail to get any traction at all in mainstream porn.
But I will say that on the other side of that coin, there are benefits to being a member of a "niche" group when it comes to porn. A lot more people are taking notice of transmasculine porn these days, and I think in the next few years we will start to see some of these roadblocks dissipate. There is absolutely an audience for us out there and the people who love us really love us. There's certainly an advantage to that in porn even as we also face specific barriers.
Any misconceptions about yourself or the industry you want to debunk?
Sex is fun and sex on camera is art. We've come to this strange place in society where attitudes about sex and the adult industry are as open as they've ever been, yet we're seeing intense backlash. Practices like shadowbanning and outright banning adult content online and on social media-- the foundation of our work-- wind up impacting people doing things that are fully legal and completely consensual. We can find ways to ensure that performers are safe, that children are safe, and that people who don't want to see porn don't have to, without just scrapping all of it outright. And we should, because we all deserve to see sex as something beautiful, pleasurable, and fun, not merely a source of potential danger and harm.
What is something that makes you feel proud of the work you do?
I came out as trans in 2008 at a time when there just wasn't that much out there to help me understand my sexuality. When I started finding porn like "Bonus Hole Boys" and "FTM Fucker" in the early 2010's, it helped me to feel more confident in myself sexually, particularly when it came to my attraction to men. But the gay community hasn't historically been that open to trans men, and I've struggled for many years to figure out my place in that world.
Doing porn became a way to continue carving out a space for myself and other transmasculine people like James Darling and Cyd St. Vincent and others had done before. So, I've been especially proud in the moments where people tell me I opened their mind about trans men or when a trans person says that watching my porn helped them feel more confident in themselves. I love that I get to do what I do while helping people to access and learn things about their sexuality.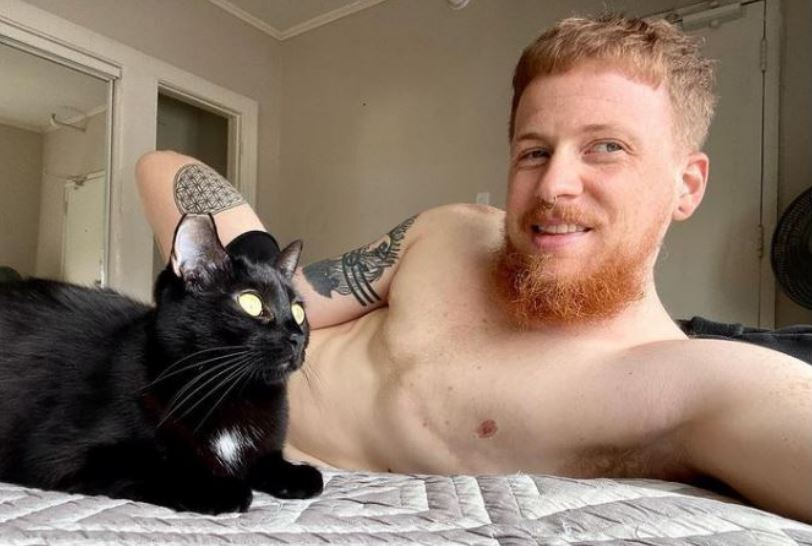 courtesy of Stevie Trixx
Do you have any advice for trans people who are just getting started in the industry?
My biggest piece of advice is, if you really want to do it, stick with it. At first I really struggled with the ebbs and flows of the business. I would panic when I felt my numbers slipping or if I had a "bad" month. But that's all a part of the game. If you can learn to ride that wave and stay consistent in what you do-- whether that's posting on Twitter every day or doing weekly videos-- then you'll have a much easier time finding a steady audience that will grow with you over time.
I'd also say don't bother with the trolls. Trans folks do face ignorance and harassment doing this work, but that says a lot more about the people taking the time out of their day to be rude than it does about us. I find it's best for my own sanity to just not engage with that and let me living unabashedly speak for itself.
How does being a trans sex worker make you feel empowered?
I feel empowered because doing this work has helped me learn how to set healthy boundaries and to understand my value. I never felt like my time or my body or my needs were that important before doing this work. But I learned that if I couldn't set firm boundaries, I was going to burn out very quickly. So I started to state my needs upfront and express the boundaries that I do have with coworkers and clients. That's made a big impact on my life both in and outside of work, including helping me to get and stay sober.
It's also done a lot of good for my self-confidence. I edit all of my stuff, so I have to spend a lot of time looking at my own naked body. I realized pretty quickly that I had a lot of unkind thoughts about myself and needed to work on that. Between doing porn and a healthy amount of therapy, I've come to a place of really deeply loving my body. And coming from that place makes it so much easier to take good care of yourself to continue the positive cycle.
Of course, both of these things won't be true for everyone. But if you're able to take the challenges that this industry comes with and use them to learn and grow, it can be tremendously empowering.
Follow Stevie Trixx on Twitter and Instagram from more content and updates!
Twitter: @StevieTrixx
Instagram: @stevie_trixx
We'd like to remind our Models and users alike that they are never alone in this community. We have formed partnerships with resourses like Pineapple Support, a free to use therapy center for all members of the sex work community. We encourage you to contact Pineapple Support and speak to qualified members like Rachael if you are experiencing feelings of uncertainty. You can aslo find resourses on wellness for all genders and body types at our Sexual Wellness Center. While we use this opportunity to shed light on and reflect on the experiences of gender non-conforming performers, it is equally important to celebrate the power, courge, and resilience of the trans community, today and everyday.