While some of us have spent the last year working on our baking skills and TikTok videos to try and stay sane and entertained, Adhara and King decided to share their love, passion, and sex life with the world and joined the Pornhub Model Program. Since then, THESTARTSOFUS has been named Amateur Model of the Month, made our top 20 list, and grew their brand and fanbase so much, they're now able to focus on producing content full time.
Keep reading and get to know the lovely couple behind THESTARTOFUS.
1. How did you two meet?
Adhara: I met him through a dating app. I didn't have any expectations when on this app, just curiosity. I had never met anyone from one before, so needless to say, I was very nervous. By the end of the first date, though, I knew we shared something really special.
King: Through a dating app! I had never tried it before and thought why not give it a shot. Maybe for most it may not seem like much, although, putting myself out there like that was me stepping out of my social comfort zone. It's amazing how something so little led me to the most beautiful woman in the universe, My Queen.
2. What influenced/inspired you two to join the Pornhub Model Program?
Adhara: When my partner and I would make love, we always liked to capture the moment for ourselves to watch later. After a few times of doing so, we realized that our bodies were always in unison with one another. We loved the raw and pureness that was in the love we shared, so we wanted to share some of that passion with the world in hopes it would spark passion in other people's sex lives as well.
King: The pureness of beautiful raw passion that we've had since the day we met is what inspired us. The energy that we release during our most intimate moments is something we felt was worth capturing, in hopes that maybe we could inspire others to create moments like this together, too. Pornhub and the Model Program have been the perfect place to help our art inspire the world!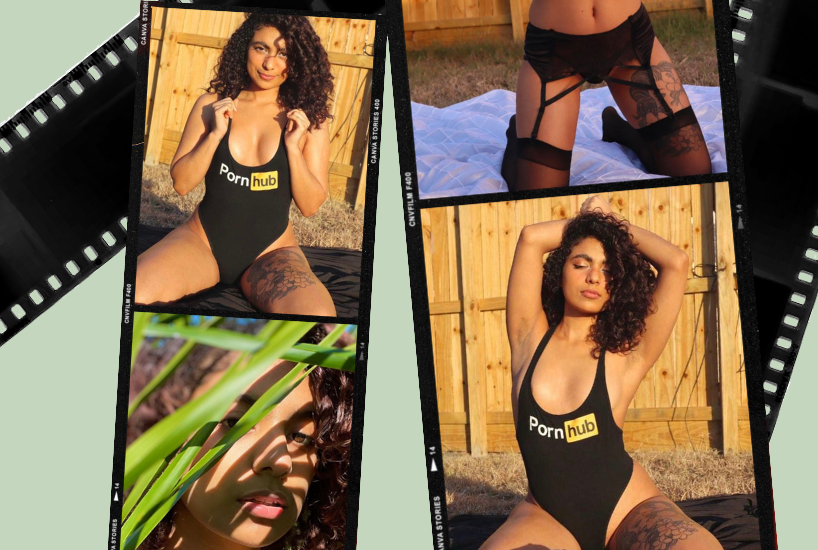 Courtesy of THESTARTOFUS
3. You joined the Model Program less a year ago and already have 120 million views, 174K subscribers, and are right now ranked in the top 20 -- What do you accredit your success to?
Adhara: Simple -- love. It sounds sappy, but without the passion and the love that we share we wouldn't be nearly as successful than if there wasn't. I believe that our art has become so well-known because of the fact that we're able to produce professional, yet homemade, content. Professional being because we educate ourselves on software and editing, but homemade because when you watch us, there's an undeniable connection, and there's no acting when it comes to passion.
King: The authenticity of the pieces we create and consistency in which we create them.
4. How did you feel when you found out you were named Amateur Model of the Month back in November 2020, less than a year after joining PH?
Adhara: That moment was surreal. I was picking up lunch and I was checking our page when I saw my face on the Pornhub Blog and I was just speechless. I automatically called my partner and we both just relished in that moment together. To even try to put that moment into words is impossible, because there is no words and there is nothing greater than that feeling of accomplishment. It wasn't so much about the title itself, but more so about what it signified. Being with my partner and sharing such a deep and profound love, we always knew this to be true between the two of us. To be named Amateur Model of the Month was validating that what we have is real and rare, and that others from all around the world see it too.
King: Blown away! We couldn't believe what we were seeing. The amount of joy I had for us both is something that is difficult to explain in words. We were and still are so grateful to our wonderful fans and Pornhub for all their support.
5. How do you market your brand, grow your fanbase, and bring traffic to your PH page?
Adhara: We always make sure to stay consistent. From when we first started, this has always been something important that we stand by. We've made it a point to grow out into other public platforms as well like Instagram, Twitter, and Reddit where you could get to know us more behind the scenes and who we are as a couple and as individuals.
King: Being active on social media goes without being said. Although, being strategic is key. Understanding when to post, what to title your post and which thumbnail to select is extremely important. Staying active with our fans and letting them know when we have posted or about to post on Pornhub is something we're sure they appreciate.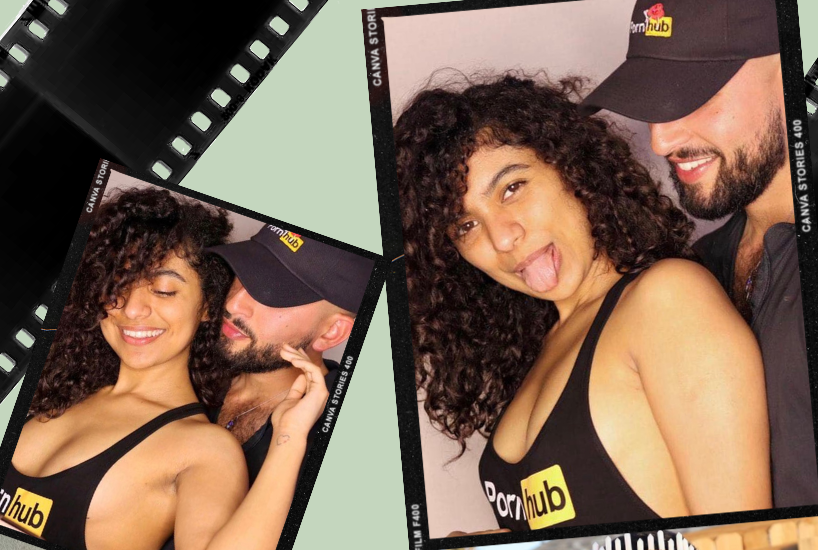 Courtesy of THESTARTOFUS
6. Do work on producing content full time, or is this more a side passion project?
Adhara: When we first joined the Model Program, I was doing your typical 9-to-5 job, and this was something that my partner and I did in between work. As we grew more and gained lots of attraction and love from fans all around the world, I was very fortunate to be put in a position where I could step away from my day job and dedicate my full time to our creations and platforms.
King: We're officially now full time and we love it! Now we can focus more on growing with our fans and ourselves. This is something we never could've imagined! We wake up every morning next to each other feeling like it's all a dream.
7. How would you describe the kind of content you create and produce?
Adhara: Pure and authentic -- We love showing the raw side of our lovemaking like the scenes where we wake up in the middle of the night for a quickie or make love while my partner and I watch TV, but we also love incorporating fantasies. We love role-playing and creating scenes where we play other alter egos; it's exhilarating and fun.
King: Passionately organic existential bliss.
8. Why the name THESTARTOFUS?
Adhara: One of the first gifts that I gave to my partner was a star map that consisted of the constellations, coordinates ,and the moon. This map showed what the night sky looked like the night we met and therefore I named it "TheStartOfUs."
King: My Queen gifted me a star map! I absolutely loved it! It showed what the sky looked liked the night we met. She named it TheStartOfUs and I was instantly in love. Our name comes from this beautiful piece of love my Queen created.
9. Do you feel like you're putting on a persona when filming? Do you tap into your alter egos or are you very much yourselves when you film?
Adhara: One thing my partner and I have always made clear to one another was to never force ourselves to film. When we film, we always check in with one another to make sure that we're comfortable and that we respect one another's needs. What's captured in our scenes is what my partner and I have off camera. We never try to take ourselves too seriously, and we just let loose and have fun with it. This way, what we capture is what we stand by and that's the raw and real intimacy that my partner and I share.
King: We're 100% ourselves when we capture moments on film. Everything we've created are moments we'd experience together recording or not.
10. How has joining the industry affected your relationship? Has your dynamic changed?
Adhara: Since joining the industry, our relationship has grown exponentially in all aspects from mentally, spiritually, and physically. We started this together with no background knowledge of videography or software and editing, so we were both eager to learn and develop new skills. We share the same vision in what we want for our future, and Pornhub has opened so many opportunities for us to be able to explore all areas of our relationship. It's been such a freeing and liberating experience.
King: We've become more connected with one another. Our bodies and minds have become more in sync. We feel freer and have learned to live more in the moment. Our love and trust have grown to new levels we never imagined.
Courtesy of THESTARTOFUS
11. Are you two similar or different from one another?
Adhara: We are more similar than we are different. Our vision, our interests, and our sense of humor all correlate and we share this amazing bond because of it. We are always feeding off one another's energy and need for endless knowledge. With our personalities both being so strong and similar, we can also both be very stubborn, and like everything, it's what's needed to balance us out. The love that we both share for each other allows our relationship to flourish more and more every day. There's a certain peace that's present in our lives because we are so open with one another.
King: To say similar would be an understatement; we're literally the same person when it comes to our drive, what motivates us, and what keeps us humble. We love equally, trust equally, and never let pride have a seat at the table. We're both just as hardheaded, but we like the same food, so our bickering never lasts long. Plus she leaves crumbs all over the bed, so I'll never starve!
12. Tell us something your fans would be surprised to learn about you.
Adhara: My fans would be surprised to know that I'm a licensed hairstylist, and that I've met Kim Kardashian and JLo's personal stylists at a hair event.
13. What kind of advice can you offer to couples who are thinking joining the program?
Adhara: Go for it! Since joining, we've been a part of a community where we've been shown nothing but love and acceptance. Stay true to your relationship, set boundaries, and respect your partner's needs and wants. Educate yourself on software and editing to provide the best quality content for your fans, but most importantly, have fun with your sexuality and don't take yourself too seriously.
King: Life starts at the end of your comfort zone, so just do it! Be yourselves and invest in the both of you. Watch content and see what makes others succeed. Learn editing software, educate yourself on cameras and lighting. The amount of opportunities that may open up for you are unimaginable.
Follow THESTARTOFUS on Twitter and Instagram for photos and video updates
Twitter _thestartofus
Instagram _thestartofus