While it's safe to assume everyone in Italy knows who Valentina Nappi is, she's also known across the globe both as an adult performer and an intellectual who speaks her mind. You might have even caught her TED Talk a couple of years ago in Bari on pornography and common space. Nappi uses her platform and fame to talk about why society needs porn, the importance of female sexuality, and haute cuisine.
1. What sort of misconceptions do you think people still have about female adult performers specifically still today? How do you challenge them?
I will say that people think that female performers act like animal. The hardest thing for people to understand is that women like it and they want it and chose it rationally. Being able to have sex with strangers is something rational. People have this perception that women should be as close as you can to the Virgin Mary, and this of course has a consequence, not just on our sexuality and our sex life, but our life in general as women
So for me, doing porn was more than just a way to explore my sexuality. It was also my way of giving the middle finger to that culture. Sometimes, when people ask me why I do porn, I answer, "To offend my grandmother." Of course, it's not about offending a single grandmother, it's about going against that type of culture. And women all around the world feel this way, because in the end, sexual privilege is political privilege and power. If you can do anything sexually and no one cares, then you can do anything you like.
2. Do you think growing up in a religious country had a big influence in your decision to join the adult industry?
You know, if Italy wasn't such a religious country, the whole world would be different. For me, it was also an artistic decision as an artist. I did ballet for eight years and I studied fashion design and painting, but I just felt like porn was the most interesting thing to do. As you know, we have way less competition compared to other groups like athletes and painters. Porn is a really small business; even though there are many more amateur Models who are doing porn because of sites like Pornhub, there are few people who do it professionally. So I just felt like, "Porn needs more people and I'm going to join!" And there's still so many things we can do that we haven't been done before.
3. What do you accredit your success to?
For one, there isn't that much competition in this industry, it's a small community. Also, if you like what you do and you're professional about it, then you're going to be successful. I mean, I'm lucky and unlucky I'm lucky because being Italian gives me possibilities to speak openly and publicly. At the same time, Italy is only a little bigger than California, so I have less people following me and I don't make as much because of it. However, everyone in Italy knows me, and if they say they don't, they're lying! When people here think or talk about porn, I'm there.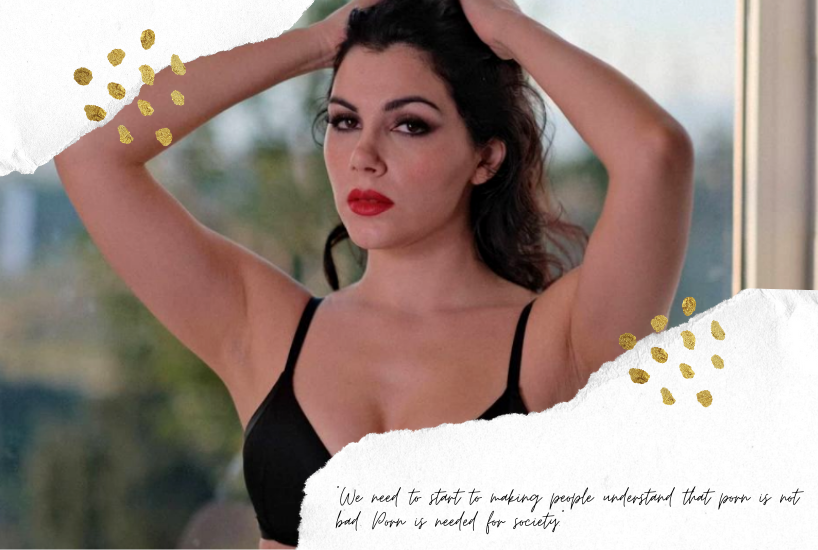 4. A couple of years ago, you gave a TED Talk about heterotopoa and how porn trespassing into common space and pushing common expectations and rules. Can you talk to us a little bit about that?
It's political. We need to start to making people understand that porn is not bad. Porn is needed for society. This idea that we can do whatever we want is false. While you can do whatever you want, the truth is, we live in a society where women are either sluts or they're not sluts. Whereas men, we don't think, "Oh this man is a slut, and this man is not a slut," because men can do whatever he wants. They can have sex only one time in the last year, or 100 times, in the end, it's doesn't matter. And that's how it should be for women. Our sexual lives are political.
Even when it comes to masturbation and porn, women get shamed for it. There's a reason why more men watch porn compared to women, because there's a cultural shame.
When it comes to sex, I put myself first, meaning I put my pleasure first. Sometimes, I hear women say they fake orgasm or how after years of dating someone who was passive in the bedroom, they're now dating someone who is more active, and I just want to ask them, "Where have you been your whole life? What is your sexuality? What do you want and why are you not putting your pleasure first?"
Porn is a way to give the middle finger to this culture that see women as human beings who are not able to make a decision of their own.
5. Do you use your platform and fame to share your thoughts about the industry and make a statement?
I do it a lot in Italy. Even before I joined the industry, I was famous because of my blog and my writing on my sexuality and how I wanted to do porn. And now, I use my Instagram to help people who ask for love and relationship advice, and I've even worked for MicroMega, which is an economic and political magazine here. So I've always done this kind of stuff and voice my opinion.
6. You also have another Instagram account called @gourmetconcerto that is focused on reviewing food. What influenced you to start this?
What's happening right now in the food industry is that food is finally becoming accepted as art. And really, food is the most complete type of art because you see it, you taste it, you smell it, and it has texture. And there are restaurants that doing this kind of thing. For example there this restaurant right now in Copenhagen that is called The Alchemist that is set up like a planetarium and combines visual art and food in an immersive way.
So my husband and I didn't really like the way it was magazines were approaching this, so we decided to do it ourselves with this Instagram account. Especially in Italy because critics expect the stereotypical Italian food, but "Italian" doesn't just mean pizza and pasta and this kind of food that everyone likes. Italian cuisine also includes brains, eyeballs, very bitter and acid things. And many chefs right now are taking these traditional foods that were lost and putting them back on the menu in haute cuisine.
Follow Valentina Nappi on Twitter and Instagram for photos and video updates
Twitter @valenappi
Instagram @instavalentinanappi