Before joining the adult industry, Sofia Rose was focused on climbing the corporate ladder and worked at multple Fortune500 companies, until one day, she decided to leave and use all her skills and experience to make a name for herself in the adult industry. Since then, she's won an XBIZ Award and was the first plus-size performer to be featured on Brazzers. Keep on reading to find out why Sofia Rose joined the industry and what she accredits all her success to.
1. What sort of misconceptions do you think people still have about female adult performers specifically still today? How do you challenge them?
I believe there is a social stigma when it comes to adult entertainment in general, but for women, I can't help but feel it's amplified. With the tools of empowerment also comes this sense of having to prove oneself because people put you in a category that makes you one-dimensional, and that's not what this job is. Women are their own brand manager, director, writer, accountant, and so on, and yet, people can deem this as "easy work." It's that type of thinking that can berate what really goes into being an entertainer, but online, you only get a glimpse of the everyday reality. It all starts with education. We now have a generation of people who had social media their whole life and that alone has shaped how we perceive and translate culture. We need to challenge the social norm. We need laws that protect us, we need education during one's formative years, and we need to have transparency in being part of the conversations to discuss how adult entertainment is part of everyone's world is some way, and that doesn't make it a bad thing.
2. Since this is all about women, why do you think it's important for women to support women? What is the best way for women to support one another?
Women need to support women based on community alone. The outside world is quick to deem us these villains and deviants that it's frustrating to see women pinned against each other when the world makes it hard enough. We understand each other's struggles, and we lived through different experiences. We have the ability to learn and grow with one another and be each other's cheerleaders. Support can come in all forms, from a heartfelt compliment to a social repost to lending a hand when times are hard.
3. The theme this year is Choose to Challenge in order to bring forth positive changes. So what are you choosing to challenge?
I want to see more solidarity amongst Latina women. I see a lot of bias within the community. Being Mexican American, I am challenged by Americans to speak English perfectly and behave like an "American" and embrace American culture because this is where I live. At the same time, other Mexican American women will often aggressively judge me for being American and not behaving Mexican enough; often claiming I've betrayed my culture and that I am a disgrace for not speaking Spanish. I don't believe that narrative is either is fair or accurate. I meet so many Mexican American women raised in America who feel the same way and feel we are treated unfairly and are being penalized for being born on the wrong side of the border.
For me personally, I try to open up these conversations with women who make comments in Spanish thinking I don't understand and will often reply to them in English. Both of my parents, my grandparents and my great-grandparents are American. None of us should be penalized or treated badly for our families gaining entry earlier than another. This isn't a betrayal of my culture, my culture is intact and I'm proud of it, but I am living in America. I will be American. We should be showing each other support since many of us here can be a proponent for change and advocate for our sisters who are just gaining entry and growing in America. We should stand in solidarity and elevate each other. The legacy I want to leave behind is that I was for all women, from all backgrounds, not only the ones who hold my mindset, culture, or ethnicity. We are women. We share the same struggles in different capacities throughout our lives. But we have to begin in our communities first. Plus-size Latin women in the adult industry are my target audience; they're the ones I need to focus on empowering. But I would empower any woman who wants, needs, and asks for encouragement.
4. What does International Women's Day mean to you? How has your perception of what being a woman is all about changed over the years?
IWD is about empowering women and finding solutions to the challenges we face that are continually evolving in a modern world. Being a woman has always been about confidence for me. I was raised in a male-rich environment; I've always seen men as my competitors, and this gave me a lot of confidence and forced me to have courage when I didn't believe I could. This never really changed as I grew older, but my belief in the power of confidence has evolved and grown with me. A woman's confidence is the strongest tool she can have, everything else comes after confidence.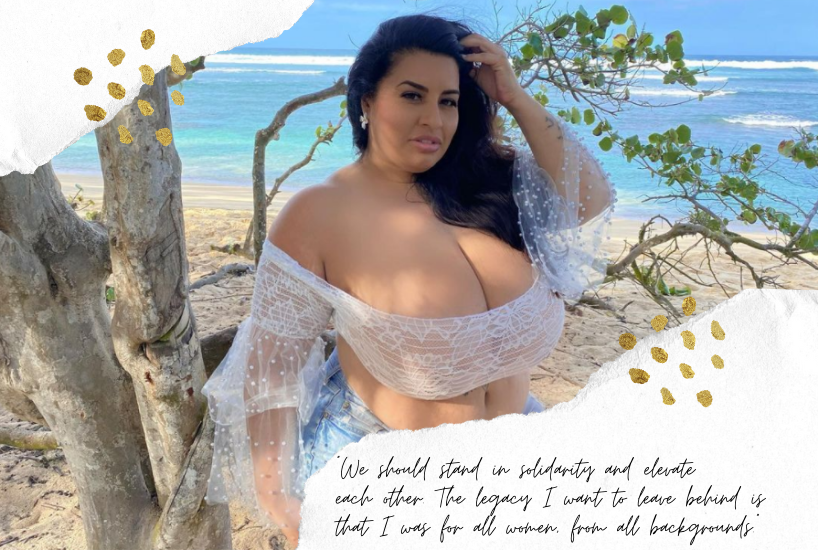 5. What has been your biggest success and challenge thus far?
Being a strong confident female is challenging because I've always thought like a man. I had to learn, in many ways, to think like a woman. I was even being told many times by men that I wasn't sensitive to things like other women. This is something I've had to consciously work on and still do every day. This never translated as a weakness to me, but as a strength because it broadened my scope of understanding to think beyond what's in front of me; to truly embrace multiple perspectives and maintain an open mind.
6. What was it like working for a Fortune 500 company? Why did you decide to leave and join the adult industry? Do you use your past experience at the company to run your brand now?
I worked for multiple Fortune 500 companies and I enjoyed my time working in corporate America. But by 30 years old, I felt burnt out. I was young and tenacious, achieving at a rapid rate with my own natural skill to market myself to my superior audience. I directly supported powerful executives, I learned a lot by being surrounded by educated and refined people. This put me in a position to learn how to build powerful relationships on every level of the corporate ladder and how to say no with a smile. These skills would help me tremendously in life when I moved to the adult industry. I left the corporate world because the mundane 9-to-5 job was too predictable for me. I was bored. I wanted more in life, but I didn't know what. I wanted and needed to be my own boss. I had no intentions to be in the adult industry, that sort of just happened. But I knew being my own boss and having my freedom to work on my own terms was my goal. I quit, cashed out my savings, and took a year to just explore the world and see what my options were in life. The Internet was still new and growing, and I knew my opportunities were vast and quickly evolving as the Internet was changing the world. I was fearless, creative, and resourceful; I took the gamble and ran into the fire!
Every bit of my tenure in the corporate world has been applied to my career in the adult industry, and I attribute much of my success to the skills I gained working in sales and marketing teams of these large successful companies. I also learned so much of the dark side of human behaviors and it very much prepared me for the adult industry.
7. How did you feel when you made headlines and became the first plus-size performer to be featured on Brazzers?
I couldn't believe it! It was an accomplishment not just for me, but also for women who are shaped like me; to feel validated and seen. This wasn't just about me, it was also a push for an entire community to have a "win" on a mainstream level. If we can promote more diversity and inclusivity, then maybe we can change social norms.
I wasn't sure if I should be happy and joyful since I knew the backlash would happen within my community, and it did. I was shot for Reality Kings, and the next thing I knew, the scene was put on Brazzers, and I was shocked! Fans were rejoicing and my community was asking me questions, and I didn't even know what was going on. Once things calmed down and I was able to digest what was happening, I realized I had a huge opportunity for change for so many women. I was excited for what was to come, but also very aware of how real the pressure is to perform and represent a large population of women. I strongly believe that porn dictates so much of what society deems normal or acceptable, and I wanted to make sure I represented plus-size women as beautiful, sexy, and confident and squash the stereotypes, fetishization, and stigmas.
8. You also won an XBIZ Award -- what do you accredit your success to?
Winning an XBIZ Award was a huge achievement for me. I was also shocked and surprised. Challenging myself to perform outside of my comfort zone really showed me what I was capable of as a performer. Getting into a new headspace and being able to create another facet to my character and repertoire was something I didn't believe I was ready for, until I just did it and it was better than I expected. It taught me as an actress to put mindsets, biases, and hesitations aside in the name of art, something I knew, but had not applied to my acting ability. I always said to myself, "This is your safety zone." Building positive relationships with people and other performers is the other factor in my success. This gave me comfort, so I was able to push my boundaries in environments I felt safe in until I really mastered whatever attribute I was focused on.
9. Where do you see your career path go from here?
I'd really like to direct and produce, but I know my time as a performer isn't finished yet. I know I can do more than one facet of this industry at a time, but I also want everything I do to have my full focus and creativity in it. I learned a long time ago I can take on a lot at once, but my best work won't come out for each project every time I take on too many projects. So I carefully choose and cultivate with purpose. I even see myself working behind a desk again, on the corporate side of a production studio. Or being a consultant to the studios who want to bring in more plus-size talent and concepts using plus-size performer as a main focus instead of the stereotypical fetish role. I feel like all my years as a performer and having my own website, I've gotten an excellent sense of what the audience enjoys and what they want to see more of. Since so many young new models seek my advice, I know they trust me, and seek me for wisdom and guidance, and I believe I can offer this to the studios and producers as well.
10. Tell us something about you that most people are surprised to learn.
I came from a humble place and I don't ever forget that; I try to stay grounded. I am the oldest of 10 kids and 8 are boys. I truly think like they do. A lot of people find me intimidating, but I'm extremely approachable and enjoy meeting people from all walks of life. Oftentimes, if I'm being shy or awkward, it's only because I'm unsure of the other person's perception of me, and I'm not trying to make anyone feel uncomfortable.
Follow Sofia Rose on Twitter and Instagram for photos and video updates
Twitter @bbwsofiarose
Instagram @ilovesofiarose