In the spirit of Valentine's Day, we put the spotlight on one of your favorite new couples on Pornhub, Kate and Chris Marley. We chatted about how they met, how they saved their relationship from almost falling apart, what kind of advice they share with other couples as relationship coaches, and of course, what it was like being named Pornhub's Amateur Newcomer of the Year!
1. You two joined the Model Program less than a year ago and already have 45 million views and are ranked 55 at the moment – what do you accredit your success to?
We stand out because we are 100% genuine in our words, our emotions, interaction, our personalities, and sex. You might hear Kate mutter, "I'm not going to be able to cum today" or "Ouch, too hard, softer please" when I'm rubbing her clit. Sometimes, one of our stomachs is growling or the straps keep coming undone and we can't stop laughing about it. We keep all that stuff in the video and I think it really catches people off guard and touches their hearts in a unique way.
2. How did you two meet?
Kate: One day, Chris walked in the front door of my house interviewing to be one of six roommates. I think of that fateful moment every day. I was sitting on the top of our big red dining table when this cute boy walked in with a 6-pack of local beer. I had a feeling I knew Chris from somewhere, but in reality, we had never met. I spent all evening trying to place how and where I knew him from. I couldn't come up with anything and had to give up (I had been staring the entire time). Needless to say, I was sold instantly, and he just had to live with us! Over the course of 6 months, we built a beautiful friendship and then the real magic happened. There isn't a doubt in our minds that we aren't soulmates who were meant to spend this life together.
Chris: I like to tease Kate that we met on Craigslist. I wanted to find a room in a house in Boulder, CO, so I posted an ad as a prospective roommate on the online classifieds site. I was seeking a mansion with parties and a group of 20-somethings where I could meet cuties and live out my youth. As fate would have it, one of Kate's roommates found my ad and gave me a call! I moved into a room adjacent to Kate's, and we became friends as I spent time in her room talking about life while she painted colorful, abstract pictures with her oil paints. We tried local restaurants and got to know each other as friends for 6 months. One evening, after a few drinks at a local bar, we sat under the stars and talked deeply about life. Later that evening, Kate knocked on my door and asked to sleep with me. The rest is history…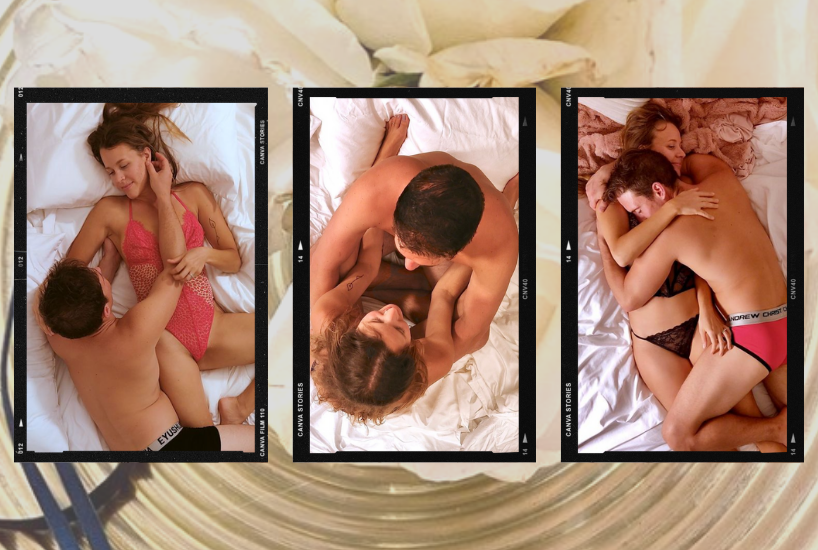 Courtesy of Kate Marley
3. In your bio, you wrote that you woke up one day and decided to start filming your sex life! Why is that? What inspired/influenced you?
We always felt that our relationship was different from what "marriage" seemed to be for most people. We became healthier in marriage, lost weight, had more sex, fell deeper in love, found more freedom and individuality -- not the other way around. For years, we would occasionally toss around the idea of sex coaching by putting our connected meditative sex style online, but never took it beyond that. It sounded so magical to make a career out of our relationship and sexuality. We had careers that held us back from doing so. One day, all the inhibitions were gone and we didn't care what anyone thought. Life was too short and too precious not to follow our dreams. We felt the world needed more connection and intimacy - an example of authentic and intentional love. We captured one of those moments in our Pornhub video, "Real Couple Shares Sensual Intimate Love Making Moment." After seeing comments about tears and hope on Pornhub, we decided that we had landed on something special and would continue sharing our sex life.
4. How has joining the industry affected your relationship? Has your dynamic changed?
Our relationship has only grown stronger. Working together toward a mission that has a greater purpose has inspired us to keep growing and working on our relationship as well. We know that the health of our relationship is critical to the quality of our work, our art, and the impact that we make. We've become more aware of when we are being authentic versus when we are trying to attain status quo. This awareness has added to the motivation to be our healthiest and best selves.
5. Are you two similar or different from one another? Tell us something your fans would be surprised to learn about you.
Kate: We are similar in many of the core ways that matter, but also so different! Actually, our horoscope says we aren't a good match, but have great potential with a lot of work and care. It's true that our relationship does take a lot of work and care, but that makes it extremely rewarding! We have a well-balanced yin and yang and masculine and feminine. We haven't had an easy relationship, but we've each brought to it what the other person needed. I am this nurturing artist that likes things to be beautiful, calm and peaceful. Chris is like the entrepreneur energizer bunny, always jumping from one project to the next, having a new scheme and idea every day! We certainly balance each other really well.
Chris: People might be surprised to learn that we came close to divorce in our first year of marriage. We really struggled, our sex was awful, and our relationship was distant at best. Kate really fought for our marriage and I am so grateful for that. Through therapy and learning to communicate more effectively, we realized that we both want the same things and got really serious about our marriage and our life together. We still disagree about things on a regular basis, but we communicate about it effectively. We are both eternally grateful for each other and the connection we have, and are looking for more ways to share this with couples around the world such as coaching and our social media.
6. How did you feel when you found out you were named Amateur Newcomer of the Year?
Never did we imagine we would be honored with such an award! I joked that I've never one anything besides "best of show" for a flower arrangement at the county fair in Wisconsin; this is quite the step-up! To be making an impact while doing what we love is such a gift.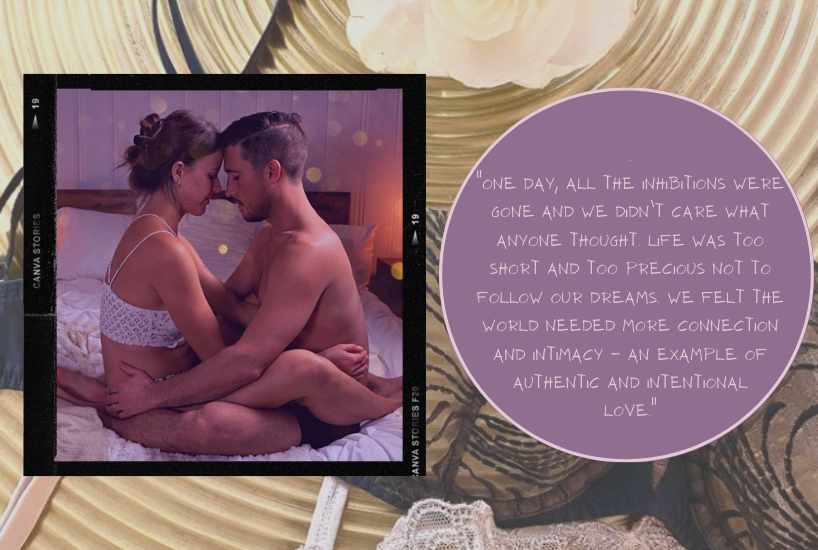 Courtesy of Kate Marley
7. What kind of advice can you offer to couples who are thinking of joining the program?
Privacy: Accept that anything you put on the Internet could be seen by everyone you know.
Niche: Find a niche, do it your way. Ours is authenticity. There are thousands of fetishes you've never heard of. Find a niche, put a spin on it, do it in a way that no one has ever done it before. Don't be afraid to be different.
Production: Invest the time to improve your production quality. Our first biggest hit, "Real Couple Shares Sensual Intimate Love Making Moment," was shot laying on the floor with a cell phone taped to the ceiling and sunlight filtering through a white bedsheet hung over a sliding window. Watch YouTube videos about videography and lighting and sound. It doesn't take money, but it takes effort and practice.
8. I noticed on your own site, you offer relationship and sex coaching sessions – is that something you've always done or since you joined the Model Program?
Kate: My coaching is based on helping people achieve stronger relationships and a more connected life. Chris and I have been through so much more than I ever would have imagined going through together. From open relationships, to health struggles, to grad school, to being on the brink of divorce, we've tackled a lot and I've learned so much along the way. Each of these experiences and lessons has gifted me the ability to help others in their relationships as well. I take a rounded approach to life. I believe that all things are connected, so I work with people to help them see what's possible through a different lens. There is always a way and sometimes when we are in deeply painful places and life feels impossible, we need help getting out. Several people have said I've helped them more than any therapist has. I think this is because I come across more as a friend. I guide people, I openly express what I think, and I share my own experiences. I never judge someone's experience because chances are, I've been there too. I hear all the time that my stories, what I've gone through, and my vulnerability has inspired them, that they've been able to find intimacy with their partners again or learn to love themselves and get past trauma. My sessions are limited, but I make as much time as I can because I believe everyone deserves to live a beautiful, authentic, and open-hearted life.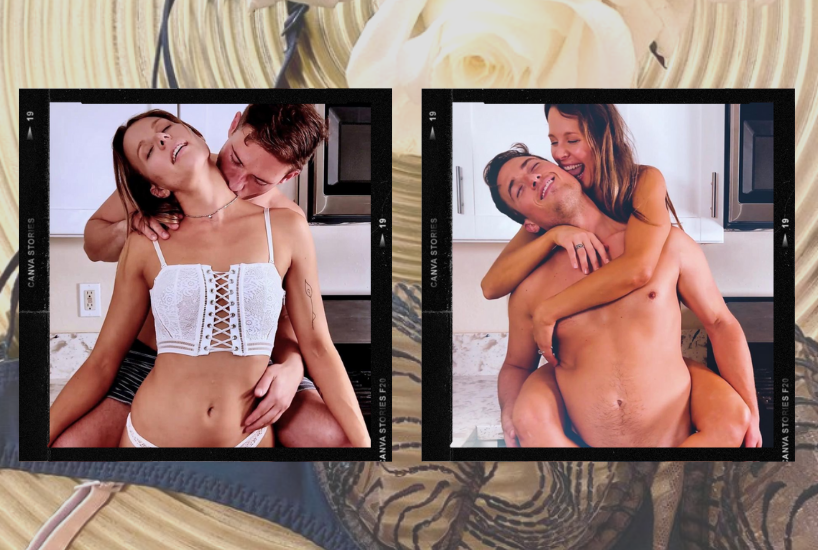 Courtesy of Kate Marley
9. What is the best kind of relationship/advice someone offered you? And what's the number-one advice you offer other couples?
Chris: The best advice I've gotten was to not marry my high school sweetie and to date several people through college to see what's out there. It's important to let your personality mature, and to have the space to do that without dependence on another person. Also, best life advice is to keep an open mind, and always try to understand the other person's perspective.
Kate: I think the biggest advice we share and demonstrate is to stay open with each other. Keep the doors open and everything an option for discussion. If you have something challenging or shameful, in order to discuss it or work through it with your partner, you need them to keep their heart open. Offer the same thing to your partner that you would want from them. It doesn't mean you have to do a bunch of radical and crazy things. It just means that you can talk about it and hold space. Closing the doors and making topics impossible to discuss will put walls between you and make it more difficult to grow and strengthen your relationship. Sometimes you just have a thought or an idea you want to discuss, but not necessarily take action on. Allowing your partner to express it to you will mean so much more than if you shoot it down and cause them to feel like their ideas are invalid.
10. Are there any other projects you are working on?
WE LOVE is the all-natural, all-organic lube that we created and used before we ever got into porn, WeLoveWeLove.com -- hundreds of people messaged us to ask about that jar of lube we used in all our videos, and we decided to start manufacturing it! It filled a purpose in our long, tantric sex sessions where every other product failed. It's very simple and formulated to be free of chemicals, preservatives, fillers, flavors, and sweeteners. The packaging is all reusable, recyclable, and plastic-free. We've sold so many we can't believe it, it's incredible how much people love this stuff!
Follow Kate Marley on Twitter and Instagram for photos and video updates
Twitter @iamkatemarley
Instagram @iamkatemarley