For today's Transgender Awareness Week Model Citizens blog, we've got the very special Domino Presley. After over a decade of experience in the industry under her belt as a performer and most recently a director, too, Domino has won multiple awards and has become a voice for the trans community in the adult industry. So of course, we couldn't pass up the opportunity to chat with the iconic Domino Presley.
How has your perception of the industry changed over time since joining?
I had no idea companies like Pornhub were so involved with raising awareness about LGBTQ+ issues as well as environmental issues, like saving the bees.
But I also didn't realize racism was going to be so apparent and such a problem in the workplace with other companies when it came to models not getting booked and what they were getting booked for.
What sort of lesson/advice have you learned over the years that you wish you knew when you first started?
Always ask for more money if it's a big company, always speak up if you don't like something, believe in the magical powers of Imodium, and listen to the girls.
What have you learned about yourself since joining the industry?
That I have a motherly, nurturing side. I always want to help new trans girls in the industry and keep them from making the same mistakes most trans performers make while starting out.
That I don't mind topping as much a I thought I would. Also, that I was fairly sheltered, close-minded, and ignorant in the past, even as a trans woman.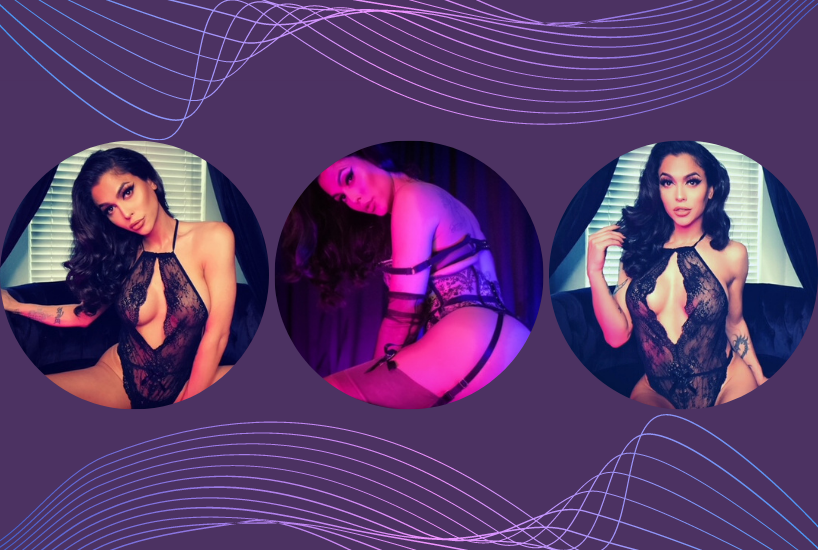 Courtesy of Domino Presley
What sort of misconceptions do you think people have about transgender performers?
For some reason, people have always thought all trans female pornstars have an STD. We all have to get tested at the same exact places everyone else does.
Also, some companies will try to book us with gay performers rather than bisexual or pan. Gay men are not attracted to transsexual women in a sexual way — that's not how it works.
I'm sorry to burst every cisgender heterosexual woman and out/closeted homosexual man's bubble, but no, the men that sleep with us are not necessarily gay. If I was walking down the street and a guy saw me, he would be, "Damn, she got ass!" not, "Damn that guy with breasts and I'm not sure what genitalia got ass! Holy Homosexual, I must be gay now!" Straight men and pansexual men are the men that desire us, date us, and sleep with us.
What does it mean to you to be part of the LGBTQ+ community?
It means I'm an alien unicorn goddess! We (the LGBTQ+ community) live a more vibrant life and are more honest with who we are. We love ourselves more because we grew up being told who we loved or who we were was wrong. It means we are warriors because everyday people in our community are oppressed and murdered just because of how they were born. It means, I'm tired of the bullshit straight cis people have been putting us through since the beginning of time, but we still have to fight because Black Lives and Trans Lives Matter.
How do you feel about expressing your identity on Pornhub? Do you keep your work persona separate from your personal one or are they intertwined?
I mean, I don't care if someone recognizes me, but I'm definitely a whore and not a slut. I think I used to try really hard to keep my work and personal life separate, but the majority of my close friends are all sex workers.
Why do you think sexually fluid content has been trending more and more in the last few years?
Well because deep down inside, that's what most people actually desire. Men have always told trans women their deepest secrets and desires because they often talk to us the same way a person would talk to a dog or a plant. It's always the loudest racist white guy that secretly wants giant black cock down his throat and the biggest homophobes and transphobes are the biggest semen demon bottoms. As for the people shooting with trans people, they're just doing it on camera now, they've been doing this behind the scenes secretly my entire decade in porn.
Has the marketing of trans-content changed over the years, too? Should it evolve? Should categories change?
Yes! I remember when everything was called "shemale" and "tranny" and what not. It was basically insulting us to our faces, but during that time, we needed that money. A lot of companies have changed the way they promote trans content for better and are stepping in the right direction. Grooby went from The Tranny Awards to The Transgender Erotica Awards -- basically from trashy to classy -- and I'm glad to have been one of the many voices that helped push that change. There are some companies that still use tasteless scripts that promote negative or false stereotypes towards trans women, and hopefully that will change in the future. Everything should always evolve for the better. Change for the good is always good.
Courtesy of Domino Presley
So Transgender Awareness Week is about raising visibility of trangender people and addressing issues members of the community face. So how can the industry help with that? Where does the industry specifically fall short and how can we improve?


The industry can start by hiring trans people behind these scenes as well for trans porn. Stop booking cis make-up artists for trans performers; hire trans make-up artists, hire trans writers. And please trans stylists! Stop hiring problematic male talent that more than one trans performer complains about. Stop expecting trans girls to be able to cum in scenes. The medications we take make it impossible for most trans girls to produce any semen, so their orgasm is just going to be a flag that says bang. Also, don't make them feel bad about that. People can help by just listening and applying what they learn. The trans porn industry is in dire need of younger directors and producers with more up-to-date mindsets.
Are you doing anything this year to honor Transgender Awareness Week?
I will most likely be promoting the song DADDY (THEE STALLION REMIX) ft. DOMINO by trans popstar, Alissah because I'm in it and Alissah is amazing. I will also still be trans and aware of it!
How has COVID affected your work and collab projects with other content creators?
COVID has basically tripled my income. People are home, bored, and horny with nothing better to do. I, as a trans woman, am used to the lockdown lifestyle, so right now, I am thriving! I mostly post solo content (some of my followers get jealous), so I've been sticking with that till everything calms down.
Follow Domino Presley on Twitter and Instagram for photos and video updates
Twitter @dominopresley