To end off Bisexual Awareness Week, we put the spotlight on one of our top performers and LGBTQ+ advocate, Wolf Hudson. Wolf opens up about the responsibility he feels in being a voice for the bi community, why creating good bi content is so important, the common misconceptions that still exists about bisexuality, and how important it is to educate.
Are you doing anything special to celebrate Bisexual Awareness Week?
I'm actually shooting a bunch of scenes with a group of people. We're going to quarantine together. So we're shooting a foursome and we're shooting two separate bi-scenes. We're going to quarantine together, hang out, and just fully celebrate each other's sexuality and enjoy each others' bodies and energies. It's going to feel very liberating and hopefully that liberation comes across on film.
What kind of marketing advice can you offer to other bi-content creators?
The one thing I always tell people, especially content creators, is to not create content you think people are going to like. Create content that is special to you and that you're into. That's always going to be what people gravitate toward. If you like it, then someone out there is going to like it.
I have no concept of what people like because the minute you get into that, that's when it sort of becomes a formula. It becomes too much of a business where you lose out on what actually turns you on. It becomes a generic routine and people can see that.
In terms of marketing my content, I advertise it as being myself. I can't tell anyone to be like Wolf Hudson. The way I present myself is unique to me. So be yourself. Talk about what it is you're doing and speak from a place of passion and from a place of, "This is what I enjoy." People love that.
It terms of bisexuality, I've been a huge proponent of promoting bisexuality as I see it turns me on. And that is what people are seeing. If anything, people are almost in awe of my ability to be so open about it because it's not represented with many adult performers. I acknowledge that, giving me more ammunition to be myself and be so vocal to the point where it's like, "Hey, I'm bi. I'm bi. I'm bi." I kind of want to make it annoying so you know it's there and I'm not just putting it out in spurts so it can fall through the cracks.
Since the last time we spoke a year ago, bi content continues to rise in popularity. Why do you think that is?
There was always a desire there, it just wasn't implemented as much and took a few different people to start creating that content and putting it out there for it to be a thing. One of the biggest problems with sexuality in porn that I've heard from a lot of people is that it was boring. That it was stagnant and very mechanical and just almost formulaic.
So what you started seeing was people becoming more comfortable with their sexuality and exploring it. You're seeing that sort of representation with content creators putting it out there, and I think that has actually been getting much more attention and creating curiosity in viewers. The desire was always there. It was a matter of people actually making it and doing it well.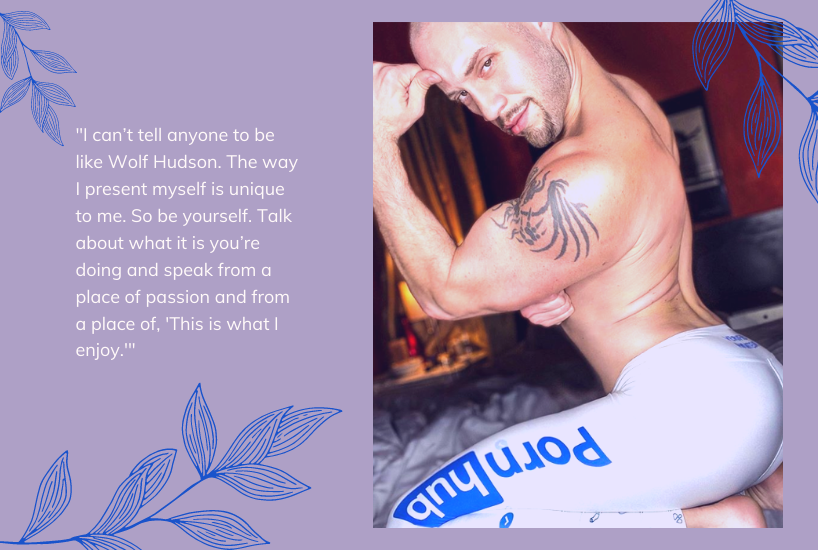 Courtesy of Wolf Hudson
How has the understanding of bisexuality evolved over the years?
Bisexuality is very plain and simple. You are attracted to men. You are attracted to women. And I don't think that is a bad thing. It's up to anybody to decide how they choose to identify. I don't think that bisexuality should be diminished because of this and this is what I've been working on.
Obviously, with the people that I worked with, they identify in many different ways. So I'm not going to diminish that or try to say, "Oh, you have to identify as bisexual." You identify how you want to.
More so in the past, it was a word that people wanted to stay away from because once you say that you identify as bisexual, that usually meant that if you're a guy, you're really gay. You say you're bisexual now and then eventually you turn gay. Which means a lot of people don't want to identify as such because they felt it was invalid.
Now, you have a newer generation that's much more sexually liberated and progressive and they also feel like that word doesn't represent them because they have a more broader perspective in their desires. And so, again, it also puts bisexuality at the very bottom or it keeps it hidden.
There are people who identify as bisexual, but now, there are people that don't want to use that word because of how they're perceived. And there are people who use that word as a default when they more or less identify as pansexual, but saying bisexual is just easier to use for people to understand. That's because if you go into pansexuality, you have to explain their sexual expression on a much more broader point of view, and I understand that. But I think one should identify as they want. And if you have to explain it, then explain it or don't. You don't have to use another word that doesn't define you.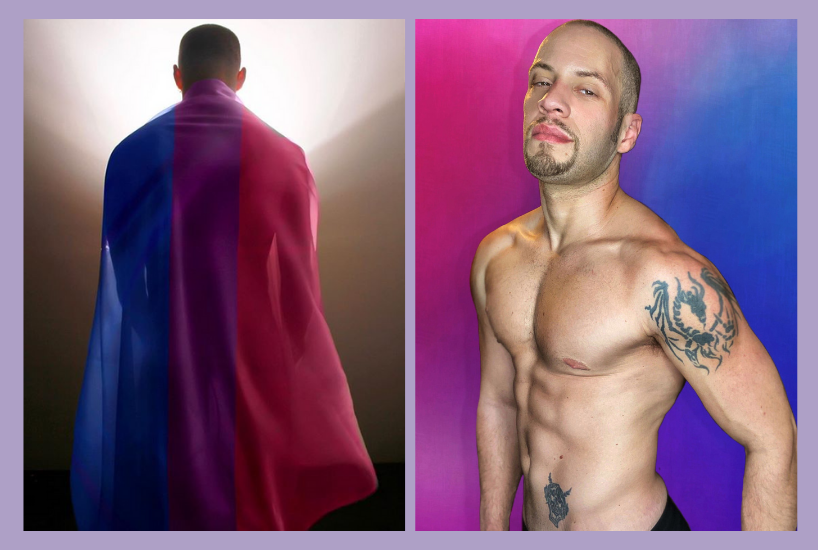 Courtesy of Wolf Hudson
Do you think people in the industry have a better understanding of what it means to be bisexual?
I think that there's definitely a better understanding in the industry, but it's still not one that people really dive in, breakdown or teach people. It's still very new in terms of just being aware and making it visible. It's just always been seen as the greedy orientation of having it both ways. That it's not possible to like both genders. He's either straight or gay, or if he identifies as bi, well, then, he's gay. And if a woman identifies as bi, she's really straight because she's doing it for the males. I think it's ridiculous. Even in the industry, there are certain misconceptions when it comes to sexuality between men and women.
What continues to be a big misconception of bisexuality in the porn industry?
One of the biggest misconceptions is that if a guy identify as bisexual or pansexual, then that means they're really into guys. Also, HIV is still a prevalent issue in the industry. This idea that if a male performer does gay or bisexual porn, he is susceptible to HIV or already has HIV, even though there are protocols. I do my best to educate people on HIV, what it does and what it doesn't do, how science has evolved, how with treatments it can be undetectable and untransmissible, and how you can still live a happy and healthy life, but I'm one voice. And sometimes, no mater how much info I give someone based on facts, there is still that inner fear of "what if." I can only teach who actually wants to learn.
Follow Wolf Hudson on Twitter and Instagram for photos and video updates
Twitter @WolfHudsonIsBi