For Bisexual Awareness Week, we decided to put the spotlight on some of your favorite top bisexual Models on Pornhub, and to kickstart the week, we've got the enchanting Charlotte Sartre.
Read on and find out how Charlotte's evolved since joining the industry, her thoughts on being part of the LGBTQ+ community, and why she thinks bi-content is trending more than ever.
What sort of misconceptions do you think people have about bisexuality? About bisexual performers?
I've noticed a weird phenomenon where even if you tell people you are bisexual or pansexual, many assume you must actually be either gay or straight and that you can't possibly be anywhere in the middle. Or if you're a man, you must be just "gay for pay." Many of my bi/pan male performer friends could echo the same sentiment. People tend to be more accepting of women having sex with other women than men having sex with other men.
What have you learned about yourself since joining the industry?
Since joining the industry I've become more comfortable with myself and more confident. I've been blessed with being able to explore many elements of my sexuality and try things in safe, supervised environments with professionals whereas outside of porn, I may not have had so many lovely opportunities. Over the years I have discovered my dominant side and found out I'm not as submissive as I originally thought I was when I first started shooting porn. Best of all, I've discovered my capacity for giving and receiving love to another human being. Last year I married Lance Hart who is the most wonderful and amazing (and handsome) man in the world.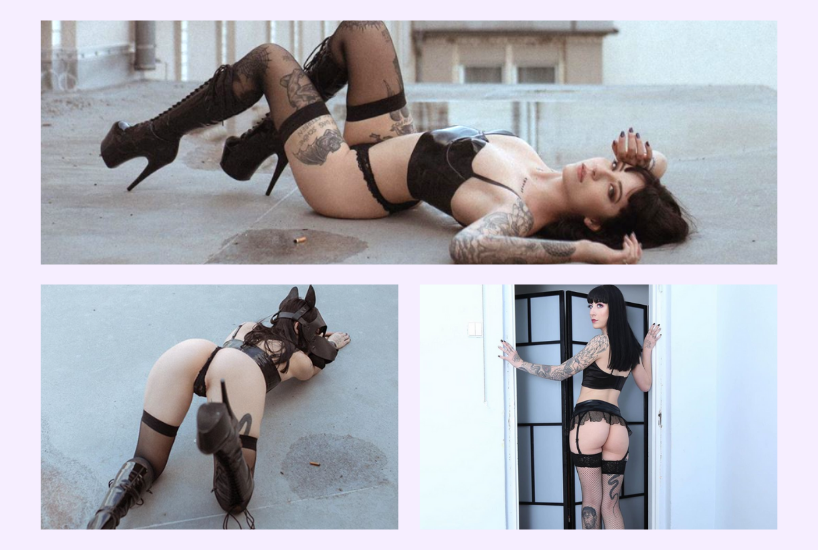 Courtesy of Charlotte Sartre
How has COVID affected your work and collab projects with other content creators?
For a long time, I was trying to focus more on my own productions and less on working for other people, and the pandemic has forced me to do that, so it's been a much-needed change for me. I started making more money on OnlyFans and Pornhub by staying at home and making content. My husband and I have been able to produce scenes at home for other companies and we actually had to turn down a lot of work because we both got so busy with filming.
The downside of the pandemic is that I can't shoot with as many people as I would like to until things get a bit safer. I went from traveling internationally and being on set all the time to rarely leaving my house. I get tested for COVID multiple times per week, I limit my contact with other people, and I'm very selective about who I work with now.
What does it mean to you to be part of the LGBTQ+ community?
For me, being part of the LGBTQ+ community means accepting and loving one another. Not everyone is fortunate enough for their sexuality and identity to be tolerated by the world around them so it's important to build a community and fellowship where people can feel like they belong.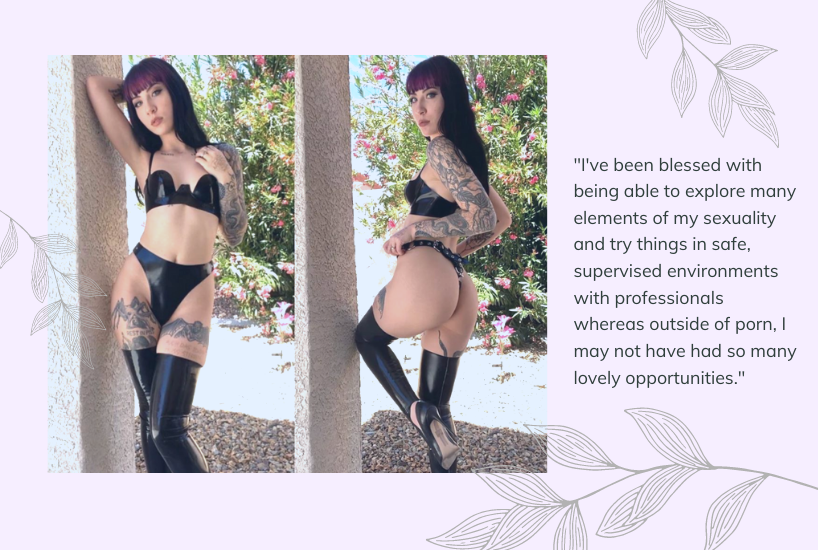 Courtesy of Charlotte Sartre
How do you feel about expressing your identity on PH? Do you keep your work persona seperate from your personal one or are they intertwined?
I just don't have the energy to live two different lives at the same time. I think a lot of people can get wrapped up in trying to create a "brand" or an "image" they think will be successful, and for some people that can mean hiding their romantic relationships or hiding their true sexual preferences. Of course, in some videos I'm playing a character, but that's a bit different. Not to say that I'm better or more authentic than anyone else, all I do is post the things I like with the people I like. People who watch a lot of my work or follow me online know that I'm into a lot of different things and some of that could be considered weird depending on who you ask. I am also sexually attracted to a wide spectrum of people.
Why do you think sexually fluid content has been trending more and more in the last few years?
In addition to the world constantly changing and public perceptions shifting, I think porn has become so easily accessible that people can watch the different kinds of porn they really want to watch without having to go into a video store. So creators are responding to the increased demands for sexually fluid content. I also think porn, especially amateur porn, has become more of a way for people to express themselves sexually and connect with other people. It's not that people are suddenly becoming sexually fluid, I just think Internet porn is reflecting what has already existed since the dawn of humanity.
Follow Charlotte Sartre on Twitter and Instagram for photos and video updates
Twitter @@gothcharlotte