We've got big news for you Models! We are thrilled to announce the launch of a brand new monthly contest feature we like to call Viewers' Choice!
Now with Viewers' Choice, Pornhub will be hosting monthly themed contests that'll help you earn more and grow your fanbase. By participating in the contests, Models will have the chance to win one of three big prizes, get featured on the contest page, and earn money by selling votes to users.
Unlike our previous contests, the monthly winners will now be chosen by our users by allowing them to vote for their favorite video. Since each user gets one free vote every 24 hours per model, models can sell votes to their fans to help them win and make some extra dollars in the process. For each voting tier, you can offer incentives like discount coupons to increase your chances of winning the contest. A small discount goes a long way and increases the likelihood of a future sale to that fan.
On top of our top three prizes, to celebrate the big launch, for the first month of Viewers' Choice, we're also giving away $100 to our top 100 Models and featuring the top 50 contest videos on the front page of Pornhub!
Monthly Prizes
1st Place wins $3,000
2nd Place wins $2,000
3rd Place wins $1,000
Interested in joining in on the fun? Here's how:
Upload your contest video submission like you would any other video by clicking the Upload button. The video must be free-to-view with the option of it being pay-to-download.
Once the upload is done, click on the drop down button near your profile pic in the top right corner and click on Model.
Then click on More Stats and Tools. You'll notice we've now added a new Contest tab. Here you'll be able to see the theme and dates for the upcoming contest. You can submit videos to future contests, for example, our Halloween contest will start October 1st, but you can already submit to it by clicking on upcoming contests.
To participate, just click on the button "Add a new video to this contest" and select the one you'd like to submit.
The video must be free-to-view, with the option of adding a price to download. It cannot be a trailer, Premium, unlisted, or for-sale.
You can only select one video submission per contest, so be sure it's a good one! (Take note that even if you delete the video you submitted, it still counts.)
The video you select will appear on your profile page with a Vote button beside it.
How To Sell Votes:
Once you select the video you want to submit to the contest, you have the option to add a reward. You could offer options to each tier of votes by clicking on the drop down arrow and then Add Rewards.
On this page, you decide how much of a discount you want to offer fans and whether it applies to specific or all videos. You can also set a limit to the number of times the code can be applied per user. You'll soon be able to offer Fan Club subscriptions...stay tuned!
Votes count as video sales, so you'll get 65% for every dollar sold.
Be sure to promote your video and share the news with your fans on your social channels!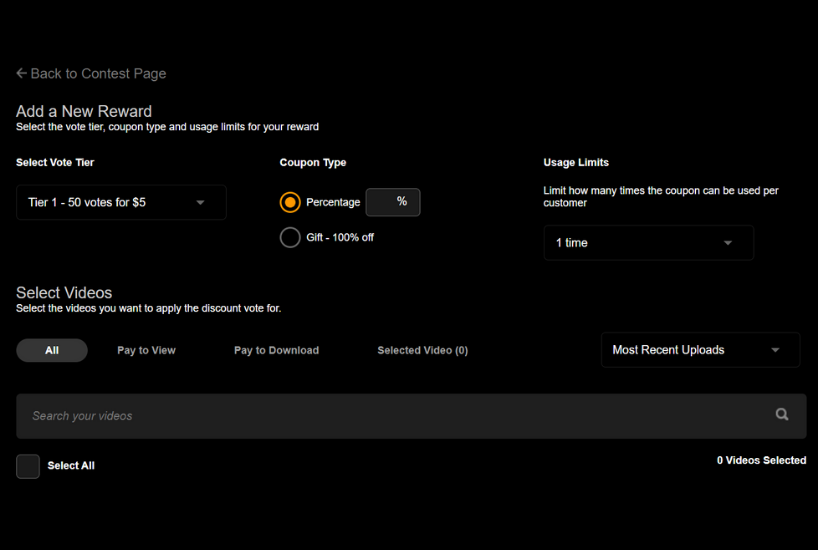 To sum it up, here's why we're so hyped about Viewers' Choice:
- It will run monthly! More contests, more prizes every single month!
- It's no longer based on staff picks. It's now up to our Pornhub users to vote on their favorite videos. So be sure your promote it on your social channels and let your fans know how they can support you and help you win big!
- Everyone makes money, not just the top winners. Fans can buy votes and those count as video sales, therefore you earn money on votes.
- By offering incentives like discount codes and free content to fans for paid-out votes, it'll increase the likelihood of future purchases from those fans.
- Your video will be featured on the contest page, giving you extra visbility and the chance to grow your fanbase.
If you're looking for more info on Viewers' Choice, check out our Help Center and click here.