For this edition of Model Citizens, we passed the mic over to one of your favorite married couples on Pornhub -- Eric and Bastion Hendrix. Keep on reading and find out how they met, why they joined the Model Program, and what they've got planned for the future.
Tell us a little bit about yourselves and how you two met.
We met online in 2015. Eric was 23 at the time and serving in the US Navy. He was stationed in Jacksonville, Florida where he grew up and spent his time swimming competitively and playing soccer. He left the Navy shortly after our relationship started, and received several honors in the military and in both soccer and swimming.
Bastion was 25, and as a former foster child from Detroit, he was working 3 jobs, including being a national advocate for a nonprofit dedicated to foster children. He's also been published and has helped educate and inspire thousands of foster children, caseworkers, and state representatives. In the last decade, by sharing his story, he's made a huge impact on our nation's foster youth and has been a voice for the LGBTQ+ community. Since he was so busy, it was difficult to get a hold of him on the dating app, but he eventually responded and thought he was being catfished.
After we had a FaceTime chat, it took us a month of talking daily to finally agree to meet. At the time, Bastion was dealing with a lot. He just found out his father was diagnosed with cancer, he ended a toxic relationship, and he didn't really have a support system. After a month of getting to know each other, Eric was touched and inspired by Bastion's positive and loving attitude and invited him to Florida to get a fresh start. He booked his flight the next morning.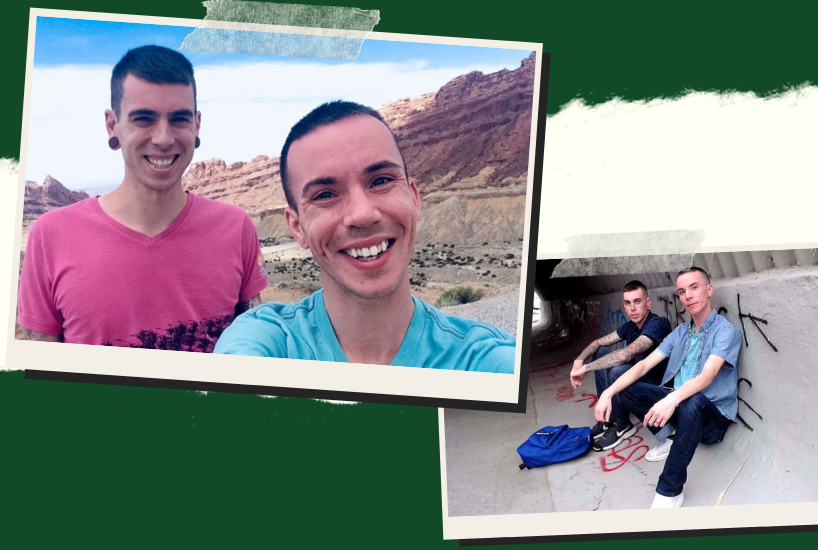 Courtesy of Eric & Bastion Hendrix
How long have you been in the industry and with Pornhub? What convinced you to join the industry?
Although Bastion insisted on getting his own place after a of couple of weeks, Eric's family invited him to move in with them to help him save money. After a few months, we both went to school in Orlando for film production, screenplay writing and audio engineering. So we ended up moving out of the family's house and into our own loft in Orlando. Talk about the dream!
Due to the rising cost of living in the city, and living in general, we decided to start webcamming to try to earn some more income. It was still early in our relationship and we didn't realized how much of an impact the industry would have on our life and those around us. We were quite successful and it happened so quickly, but it was also exhausting being online all day long. Plus, it wasn't great for our private sex life. We were married for 8 months and decided to put a pause on camming and focus on our relationship for a few years. Bastion was also dealing with the death of his friend, his mentor, and his father and needed time to himself. So we took off on a cross-country trip with our cats.
During our trip, we stayed in Wisconsin for some time and that's when Eric came up with the idea to join Pornhub's Model Program to earn some extra income. We went from being nose deep in cows and chickens and crossing the country on our bikes to moving to downtown San Diego to do what most people consider the impossible.
Has your perception of the industry changed since joining? If so, how?
We believe our perception has absolutely changed since 2015. Prior to Pornhub, we actually did not watch porn because we have always been more old fashion with our sex life. We had no idea what to expect and were in for a rude awakening.
We did not anticipate how much work it is to produce your own porn and keep up with the upkeep. We thought it was going to be easier to make money, but it has been a slow growth. However, starting our own journey has way more advantages than disadvantages. There are surely a lot of ups and downs, and it's all about figuring things out and learning to trust each other.
Sometimes, we do have doubts, but, ultimately, we trust ourselves and those we surround ourselves with. We have not given up, but we know this is not an easy path. There are a lot of great Models, fabulous competition, and incredibly talented people out there; shout-out to TrashPickles and Asa Akira. All these Models are truly inspiring to watch grow and help others in so many ways. There are amazing people in this industry. It's a gift to have such an opportunity to work and be surrounded by people that allow themselves to be themselves.
How has joining the industry changed your life?
It's changed in our lives in so many ways. We've become known a little bit in the gay community across the country, and we love the attention we've received so far. Since joining Pornhub, just in the last year, we've been featured several times and made so many great connections. It has allowed us to work independently, but we've also had to say goodbye to our privacy. When we started, we had no idea our page would grow into what it is today. The most beautiful gift from this experience is being able to work on ourselves and our marriage. We have not had much of an opportunity for stability in life, and with the support of our fans, we get to have a home, and we are truly happy together.
It's been such a fun journey and we are excited to see where we'll go from here. We didn't realize you have to work this business through many different angles to be successful, but stability is what we are striving for. We need abundance to save Bastions' health and Pornhub is a great platform for that abundance. We joined because of the financial potential, which in turn could help us pay for important things like getting Bastion the orthodontic work he needs for his health.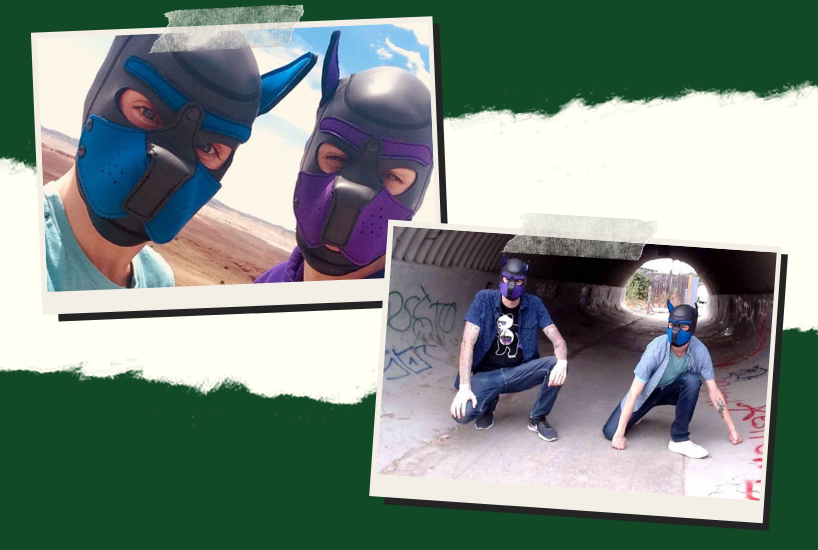 Courtesy of Eric & Bastion Hendrix
Is there anything on your sex bucket list you'd like to try but haven't done yet?

We have a handful of things we would love to try. For one, we do want to have sex with women. As funny as it sounds, we are two gay men who came out years ago and are now coming out as pansexual and polyamorous. So we want to date a girl or another couple. It's really about finding the right connection and figuring out if we can build a life together. It is a huge fetish of ours to have sex with a girl; we believe it would be a fun experience and it's something we do want to fulfill.
We're also quite new to the puppy play community, but we want to explore that more. We've discovered that it's such an intimate form of roleplay and it goes a lot deeper than just wearing a hood. We've learned that we enjoy creating our own guidelines when it comes to our relationship.
Why the names Eric and Bastion Hendrix? How are they similar/different to you?

Eric chose his name because it was short, sweet, and straight to the point. It pretty much sums up how similar it is to his true personality. But then again, Eric is very chatty when he gets to know you.

Bastion liked the name from the movie The NeverEnding Story. He felt like it would be a good fit. It all sounds nice when it rolls off the tongue.

As for Hendrix, here's a small glimpse into to our personal life. Hendrix is our real our last name. Bastion used to have a different last name, but when we tied the knot, he changed it to Hendrix. So we feel like it's not too far from the truth.

Here's another little tidbit for you: We were told on three different occasions we couldn't get married. A notary and a bank told us to leave the building, so we ended up getting married through an ad we found on Craigslist!
Do you keep your work and personal life separate or feel like combining them is what helps you succeed?
Prior to moving across the country, we didn't post much of our personal lives on the Internet. We thought we wanted to keep the two separate, but now we see it as behind-the-scenes bonus material.
We find inspiration in people we love and follow like Jeffree Star and Shane Dawson. Whether you're in the sex industry or not, social influencers have an impact, and it's really great to see how anyone can create opportunities for themselves and turn their passion into their livelihood.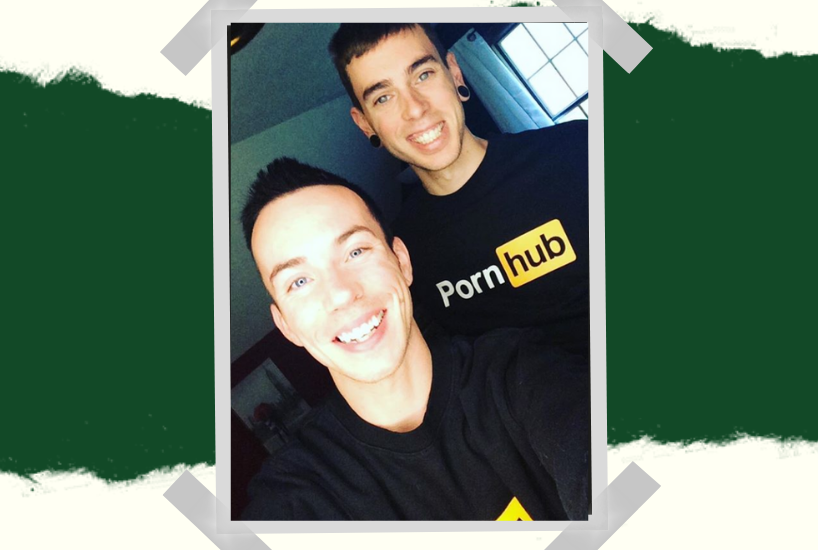 Tell us something about yourselves your fans would be surprised to learn.
Bastion is currently dealing with a mysterious medical issue. Every day it is a big struggle because he suffers from internal bleeding. We often have to be creative and smart when it comes to producing content that not only satisfies the viewers, but also prevents his medical issues from getting out of control. There are multiple reasons why we produce our content the way we do. We have no diagnosis for his condition and have not been successful in solving it, but each day is a bit of progress. We have learned how to maintain it. We simply work hard at taking care of his body by eating food that we grow right from the garden. We need to afford the cost of living an organic life to help heal his body and mind. Being a former foster child, Bastion has never been to a therapist and we could use some help. Betterhelp.com offers help, but everything costs money. We have high faith and understand that life takes time. The universe is writing out all our stories, we just have to be patient in the book of life.


What kind of advice can you give to new Models who are joining the industry as an LGBTQ+ performer?
Ask for help, be respectful, and be open-minded. Say please and thank you! As silly as it is, these simple reminders can make a world of a difference in your circumstances.
Do not be so hard on yourself or others. Be more forgiving and mindful. Have awareness; what you do in this life matters. We all have a purpose. We have learned that as a team we can get through anything together. We learned, most importantly, that we are extremely blessed beyond means.
Sometimes it takes sacrifices to find success. It's important to invest in your business and really think about how you're going to invest. And lastly, do your research.
Where do you hope to see your careers in the next 5 years?
In the next 5 years, we would love our business to grow tremendously. We are looking to start our own website and would love to create merch, so we hope to get investors, collaborators, and other content creators on board. We would love to have a website or build one together and give back to the community.
At the end of our porn careers, we want to settle down and get back to the farm life we were on at the beginning of this journey. Bastion's father died and we want to live a life that honors and treats our body and soul well. What better way to do that than getting back to farming, growing our own food, and giving a place for others to call home. After we eventually sell our business in the end, we would love to buy acres of land. We are going to build our own house from the ground up.

Our farm will have 12 tiny houses, each one representing a zodiac sign. You will have an opportunity to come and stay in one of the twelve themed tiny houses. We will have a cafe where we are going to serve all our own fresh cooked meals. Farming is something that we are meant to know and understand. We are meant to be connected to the Earth.
Follow Eric and Bastion Hendrix on Twitter and Instagram for photos and video updates
Twitter @TwinkPups