In honor of World BDSM Day on July 24, not only did we dedicate a Pornhub Inisghts post to who's most likely to search for BDSM and which terms are most popular, but we also put together a special edition of Model Citizens. We chatted with 4 of our Models about their experience with both BDSM and the industry. Read on to see how Melody Cheeks and her partner are quickly striving in the industry; discover the world of femdom with Ezada Sinn, and gain insight on being an LGBTQ+ BDSM performer with Kinky Babies.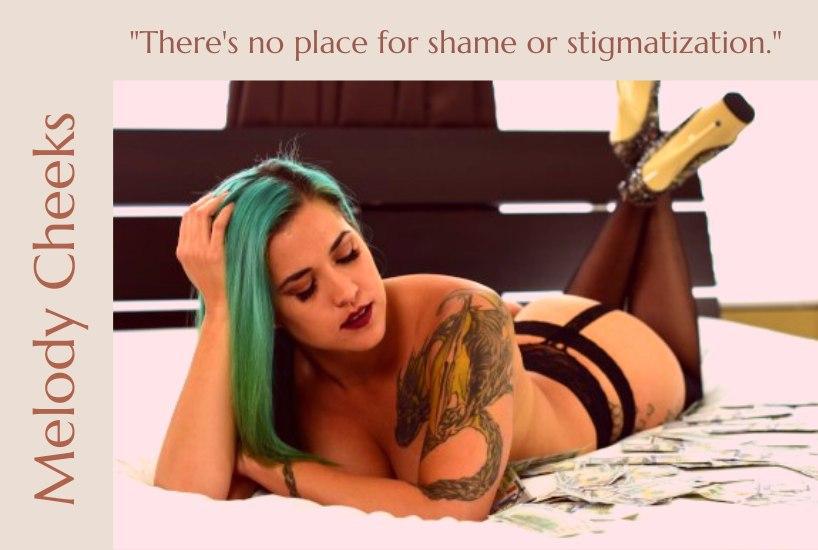 Courtesy of Melody Cheeks
1. What influenced you to try BDSM and join the industry?
I had never thought about trying BDSM until I met my current boyfriend. We had both come out of not-so-great relationships, and on our first date he asked me if I was into kinky stuff. I told him that I didn't mind being tied up, then he clarified that he meant the other way. I had never tried it but I liked him and I'm a sexual person, so I was down to try, and it turns out I fell in love with it. We communicated and had to lay our cards out, and I loved how upfront and adventurous he was so that made me really comfortable to give it a shot. Im a type-A, very dominant kind of person, and I always thought that's why I liked being tied up and submissive in the bedroom, but it turns out I really like both. I call myself a switch because we both like to take turns sometimes and fulfill both sides, and sometimes we just have normal sex. We joined the industry because we had been doing this for a while, we had the props and the gear, so when COVID-19 happened, we figured let's try filming and sharing this with people, and it turns out people like it.
2. What advice would you give to couples interested in trying BDSM?
Definitely don't think it's going to be like a porno and make sure you communicate what you want to do, and how you're comfortable doing it. I tell my friends that applies to anything sexual, do what you have to do to loosen up even if that's a shot of tequila -- don't just do stuff, talk about it. I think people are afraid to ask for something that they want to try, but you just have to step out of that fear and ask. I had a lot of things on my bucketlist, like pegging, which I vocalized and we tried. I'm a believer that people cheat because they're not being fulfilled somewhere either emotionally or sexually. But if you don't express to your partner what you want or need, then they can't know.
3. What kind of content do you want to explore more of? Do you have future plans for this industry?
We actually are working on doing some more suspension stuff. We've been wanting to do it for a long time and when we finally got a video up of it, it went over really well. We want to dive into creating better harnesses because the one that we used was safe but not so comfortable. We seem to have a following for suspension so I would like to dive deeper and be known for doing some cool suspension stuff.
Right now, I have a full-time job but we'd like to potentially move to Vegas next year and open up a dungeon there. I would like to give people the opportunity to come in and do a video or photo shoot with me, or even just talk about it -- a safe place. I think Vegas would be a good place because it's common for people to get out of their comfort zone there.
4. Have you felt any stigma since joining the industry and if so, how do you deal with it?
Absolutely, I'm a business owner, so I have to keep things separate because of the stigma and how my business will be affected and I think that's sad. It's mentally hard to keep things separate because I love this side of my life. My partner does high-profile jobs, which is why he's fully covered in everything we do because we can't risk the consequences it will have and that's sad. Everybody should be able to like what they like without any shame. The same goes for people who watch our videos and shame us when we don't take their suggestions like humiliation content, but it's just not our thing. I don't have a problem with anyone liking that, but they also shouldn't have a problem that I'm not into it. I delete negative, hurtful comments because there is no place for shame or stigmatization.
5. How do you balance filming and private intimacy? Would you collaborate with others for content?
At first, I was always eager to get the camera until one day we had a conversation about how important it was to also be just us. So now, since we're planners, we plan a day and time to film and we know that every other time that week is just for us. We've been talking about collaborating for our content because I've gotten offers to do so, but we're not there just yet. It's something I would consider in the future, but I have a prior history of jealousy, so we're working on it. I don't want to be that person because I think there's plenty of love in the world for everybody, so that's why we are talking about it a lot.
Follow @melody_cheeks on IG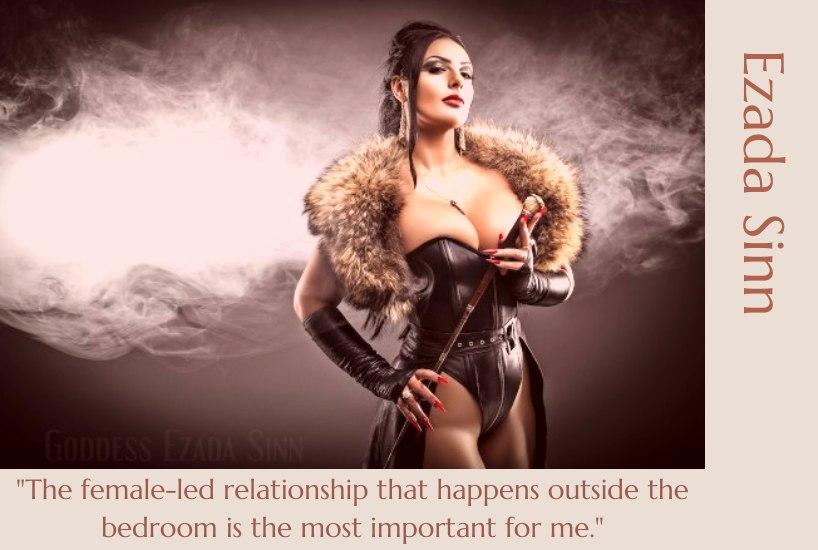 Courtesy of Ezada Sinn
1. As someone who created a BDSM website (House of Sinn) based on femdom content, how important is that female-dominant relationship in your personal life too?
So for me personally, the female-led relationship that happens outside the bedroom is the most important for me. For instance, I have my husband and several other partners, but they are expected to be monogamous. The dynamic of my relationships is that I can have them all, but they are just with me, and that is very important. So while I like to be dominant in the bedroom, I more importantly need to know that I'm in control 100% of the time in order to really enjoy the sexual part of it.
This is why a huge turn on for me is what is referred to as "consensual non-consent." What this means is that I want my partners, who I've been with for a few years, to be happy and healthy -- I take care of them and am responsible for them. But at the same time, when play is happening, or even more so, when we are in the play area, I don't want to ask for their consent anymore. This is only ok because in our relationship, they have given me consent to have total control over them, especially in the bedroom. Of course, this dynamic is something that needs to be communicated and agreed on beforehand.
2. What advice would you give to women who are interested in trying a dominant role in regards to boundaries?
The most important thing is communication. This is especially true if you are with somebody that you just met and you want to play like this, you have to negotiate every little detail of this because sometimes submissive men become very excited about finding someone to play like this with, and they will just say, "Just do whatever you want with me," and a less-experienced woman can take that literally, which can be dangerous. Everyone has limits, and without discussion and/or experience, you may not realize the limit point, which is why it must be negotiated beforehand. There are a lot of steps involved.
3. What kind of language do you use to ensure your submissive partners are comfortable?
I look at body language especially because I know them so well. And of course, no matter what we're doing, if something is going on, even as small as a leg cramp, they just have to tell me that they want to stop that position. As for playing with someone you haven't known for long, safewords are very important. I also use safewords or signals when I am trying something new on camera so that I don't need to ruin the clip. These cues just lets me know, "Okay, that's too much." For example, if we have corporal punishment clips and he says "mercy," that is a signal for me to not necessarily stop, but to slow down.
4. Do you think gender roles play a part in the stigma surrounding BDSM?
Definitely, it's important to understand that the roles people take on in BDSM are a choice. Submissive men face a certain shame because of society, but it's a choice, and it doesn't make men submissive towards everybody around them, it's just a sexual choice. For example, for me, my choice to always be dominant comes from many years of experimenting. Even though I didn't try to be completely submissive because that was never a fantasy, I have tried bondage and little activities like sensory deprivation, which put me in a bottom position. In trying that, I realized my desire to always be in control and therefore chose to take the constant role of dominance.
5. Is there something you haven't yet tried but want to?
I always have new fantasies and for me, it's important to always come up with new ideas and try new things. Now, I'm playing mostly with my partners of years and years, but sometimes playing with the same partner can make you lose inspirational creativity. I can say that, right now, I am more and more interested in long-term training, for instance, making my partner live as a dog for 24 hours, where he can't sit on the furniture and must eat only from a dog bowl. I want to experiment with how he is before we started and how he will be after the 24 hours -- I'm interested in how his mind will change.
Follow @Mistress_Ezada on Twitter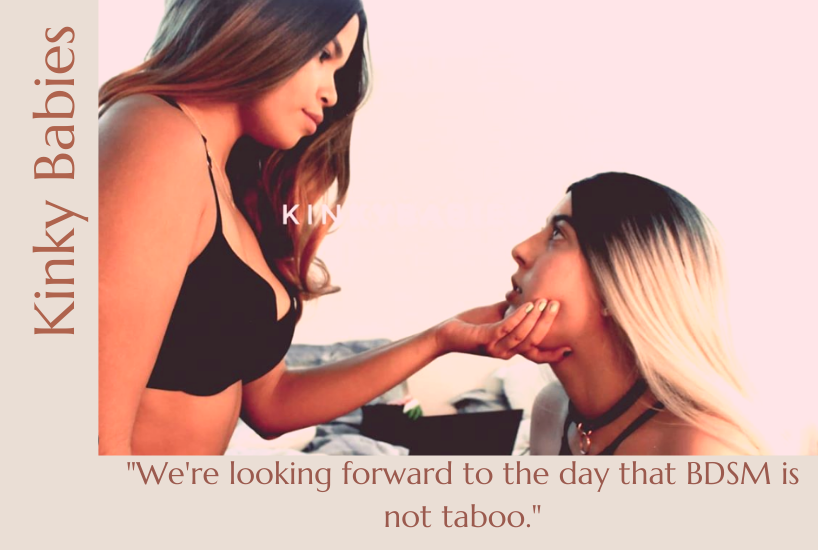 Courtesy of Kinky Babies
1. How has the industry and BDSM impacted your relationship?
It's been amazing to work together and to explore the film-making side of things together. In the first 3 months, we uploaded a new video almost every single day, keeping us very busy. We are so thrilled to be part of the industry and proud to represent the queer and BDSM community. Our off-cam sex life has become spicier and even more thrilling, while encouraging us to find new positions and locations. It has taught us to communicate even more and to centralize our relationship and authenticity within all of it.
2. How do you ensure there is good communication between the two of you?
Before every single scene, we discuss exactly what is going to happen, how and when. Alex checks in with Cassie periodically throughout every scene and especially with rope -- we make sure we don't improvise partway through. We debrief each scene to determine what could have gone better and what went great. We tend to stay away from gag balls because we prefer the rougher sexual experiences that simply aren't sufficiently safe without being able to speak. When we do use a gag ball or do choking in a scene, we make sure to use a ping pong ball in Cassie's hand so that if things escalate past her comfort zone, she can release the ball as a visual sign to Alex.
3. Do you have a favourite kind of prop/toy?
Rope is our absolute favourite because there's a complex eroticism to it. We subscribe to RACK which stands for risk aware consensual kink, acknowledging that there are risks in what we do, but we take steps to mitigate them. We really try to emphasize that there are some things in our videos that should be tried very carefully (if at all) and with safety measures. The rope is our favourite because it is the most versatile, it can be used as a restraint, gag, or be made into a toy.
4. What do you hope viewers and other models will get from your content?
That hardcore sex and BDSM doesn't mean that the relationship doesn't have love, trust, and communication. Our kink dynamic exists only because of our love, trust, and communication. A lot of dynamics, whether vanilla or BDSM can be problematic if it lacks communication, and that's what makes ours so great. Consent is ongoing, and we really try to demonstrate that in our kink videos. Finally, porn (and sex in general) should be doing more to close the orgasm gap and allow women to receive the pleasure they deserve.
5. Where would you say the BDSM world can go from here? How has it evolved in the last couple of years and how do you think it's changing?
The BDSM world remains very straight and monogamous, but this is something we've really noticed changing. When we first joined the community a few years back, we felt pressured to identify as bisexual to be included, but now in affirming our identities as lesbian and polyamorous, we've found the community has opened up to create a space for us to practice our art. We're also some of the youngest in our area, but we're sure that as the younger generations begin to explore their sexuality, not within the boundaries of a monogamous marriage, that the community will see a huge change. By continuing to include diverse sexualities, genders, and ethnic groups, this tight community will really be able to grow in a progressive way. We're looking forward to the day where BDSM is not taboo and dismissed by those who don't practice it.
Follow @KinkyBabies on Twitter and @kinkybabiesofficial on IG