As promised, we've updated our Coupon Manager tool and added in some new perks for you to utilize to help promote your content and grow your fan base!
Here's what we've added:
- Ability to include specific users
- Ability to exclude specific users
- Ability to apply coupon to specific videos
- Ability to apply coupon to all videos, including future videos
- Ability to limit the total number of times the coupon can be used per person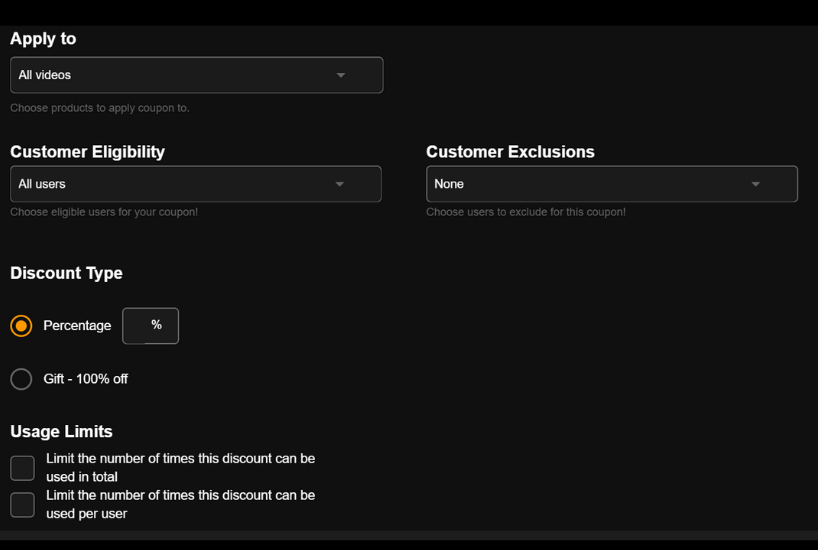 Here's a refresher course on how to create a Coupon:
1. To get started, head over to your Model page and click on the More Stats & Tools tab. You'll notice we've added a new tab here labeled Coupon Manager.
2. When you create a Coupon Name, keep in mind that you can only use letters, numbers, dashes, and underscores ( a1-_ ) and it must be at least three characters.
3. You now have the option to apply the coupon to all your videos or specific videos.
4. We've also added a Customer section — not only do you now have the option to make the coupon available to all or specific users, but you can also exclude certain users by simply typing in their name.
5. Once you fill out the discount percentage you'd like to offer, you could set the number of times the discount can be used in total and per user. You could also keep track of how many times it's been redeemed at the bottom of the page.
6. The next step is to decide on when you'd like to start your Campaign. You have the option to select an end date and time or make it an Ongoing Campaign.
7. Once you've completed each step, click on Create Coupon. All your coupons will appear at the bottom of the page so you could keep track of what's Active, Scheduled, and Expired. You can ONLY edit and delete coupons that are Scheduled, not Active.