Since we always dedicate our Model Citizens blog to Pride Month and put the spotlight on some of your favorite LGBTQ+ Pornhub Models throughout June, it only seemed right to publish our Q&A with MrTwink and MrTwunk on their 5-year anniversary. Not only was June 26, 2015 the beginning of their love story, but it was also the very same day the Supreme Court legalized same-sex marriage in every state throughout the US.
So be sure to congratulate MrTwink MrTwunk and read on to see what they have to say about joining the industry as a couple and how they moved up the ranks.
What influenced you both to join the industry and with Pornhub specifically?
MrTwunk: It's been almost two years since we started. When that whole thing with Tumblr happened and sex workers were kicked off, someone suggested we upload our content on Pornhub, so that's what we did. I discovered that Pornhub had the Model Program and realized that we could make money doing this, so we decided to test it out and uploaded a video.
We also realized there was this gap in porn and there weren't many couples making this very real, sexual content, and so it took off. I'm not going to say we were the first ones, but we were among the few couples that started it. We saw a few straight couples doing it, so we thought we could do it on the gay side.
Has you perception of the industry changed since joining?
MrTwunk: I never had a bad perception of the industry, but now that I'm in it, I do have a broader sense of the fact that it is a job. It's just another job and you put in as much as you need to put into it to get as much as you need to get out of it. At the end of the day, it's a respectable career and it shouldn't be as taboo as a lot of people think it is.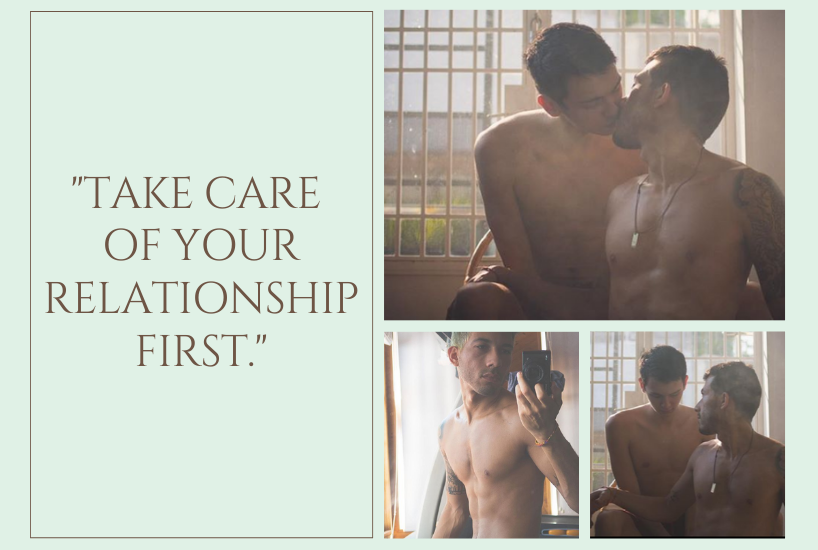 Courtesy of MrTwink MrTwunk
What do you think is the best way to change people's misconceptions about it?
MrTwunk: So we talk to the camera as much as we can because I feel like it adds your personal side to it and if you don't do that, then people tend to sexualize you and see you as more of an object rather than a person. Adding those little bits at the end and beginning shows your personality a little bit. Making YouTube content where you're talking to the camera and showing your personality can also help in showing others that we're just regular normal people.
How would you say MrTwink and MrTwunk are similar and different to you both?
MrTwink: Truthfully, I'm not the most sexual person in the world, so it's more of a persona for me. I never considered doing porn in the past. I was going to go down the "normal" path, like go to college, get a job, do "normal" things. But education is so expensive in the U.S., and I tried, but it wasn't an option. So I think I turned into MrTwink a little bit more. I started enjoying sex more, I watch more porn now since joining the industry, and I started enjoying my body a little more, too. I had some self-esteem issues, and this has helped me move past them.
MrTwunk: We're also not really acting. Sometimes we get comments that we're not very loud, that we're kind of silent, but that's how we are in real life. There is a sense of realness when we film, and I think that's why people like it. They see a real couple that's in love and is sharing their sexual life with them.
How has your relationship changed since joining the industry?
MrTwink: To be honest, it's been kind of negative in some ways, but the positive is that we've been able to do so much together. We've been able to go from jobs where we didn't have any time to see each other to being able to be with one another all the time. We were able to change our lives enough to see each other more, but at the same time, it's put a value on our sex life. It's hard to not want to just have sex and film it all the time because it's money and we live in a capitalist system. So it does put a strain on it, and it would be a lie if we didn't say that.
MrTwunk: We had to learn how to navigate it all, and although we haven't figured it out yet, we're working on it. At the beginning, the camera was on all the time, and we forgot to have time for ourselves and just enjoy our sex life. But like MrTwink said, we're happy to be together and be able to travel the world and film these videos.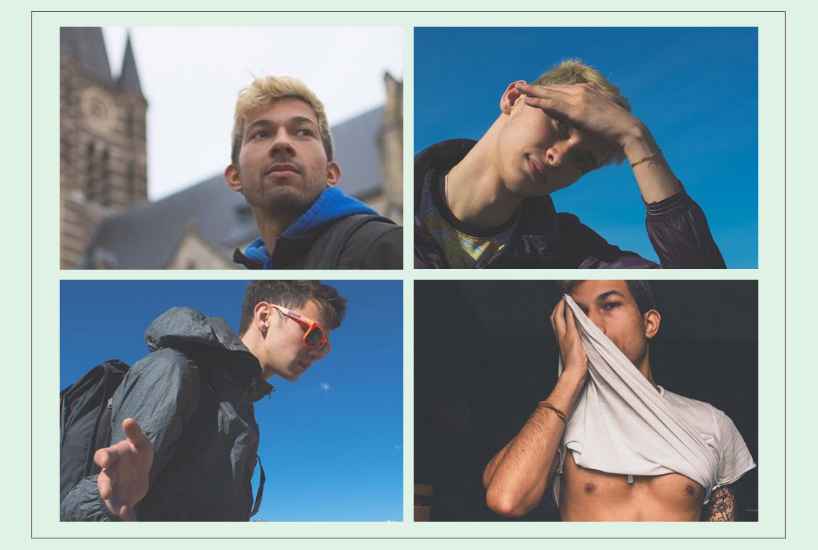 Courtesy of MrTwink MrTwunk
Do you have advice for other couples who have just joined or are thinking of joining the industry?
MrTwink: Learn your boundaries first. Learn when it's okay to have a camera on. Try and set a normal schedule. If it's possible, try and set some kind of "normal" person schedule, to have that personal time where you're not filming, editing, or watching porn.
MrTwunk: Take care of your relationship first, because if you don't do that, there's no relationship and then there's no work. Make it a priority.
How long have you two been together and how did you meet?
MrTwink: We met on June 26, 2015, the day same-sex marriage became legal in the U.S. It's been 5 years and we met on Grindr. I had just moved from Miami and moved back to Charlotte, North Carolina. MrTwunk was only 2 miles away and I thought he was very cute. I was also a virgin at the time.
MrTwunk: He just wanted to use me to lose his virginity, that's all it was!
MrTwink: That's very true! Hahaha!
What have you learned about yourselves as individuals since joining the industry?
MrTwunk: Growing up, you have all these visions of what you want to be and what you want to do with your life, andyou tend to be very strict about it. I never saw myself doing this, but it kind of fell in our laps and we decided to go with it. But now I'm in it and I'm totally cool with it. It taught me to just go with the flow. It's okay to just take advantage of the opportunities in your life because you only have one chance to do it. I don't envision myself being super old and wrinkly, thinking, "Oh shit, I could have made money off of my young body. That's kind of how I look at it. I'm young now, so I might as well go for it.
MrTwink: I'm learned I can be more money-hungry sometimes. I've realized how much capitalism has affected me.
MrTwunk: We do come from completely different backgrounds. He comes from a very capitalistic, money-hungry country, and I come from a very small town where people don't have very much, but somehow they are happier than many people in the U.S.
MrTwink: We do get into these conversations like how I grew up in a house where there was always food in the fridge and MrTwunk's was generally empty.
MrTwunk: We just had water!
MrTwink: I don't know if we would have ever had these kinds of conversations if we wouldn't have had all this time to talk to each other and be together. It's been nice in that aspect, too, and to realize my own privilege.
MrTwunk: We balance each other out, between our personalities and our skills.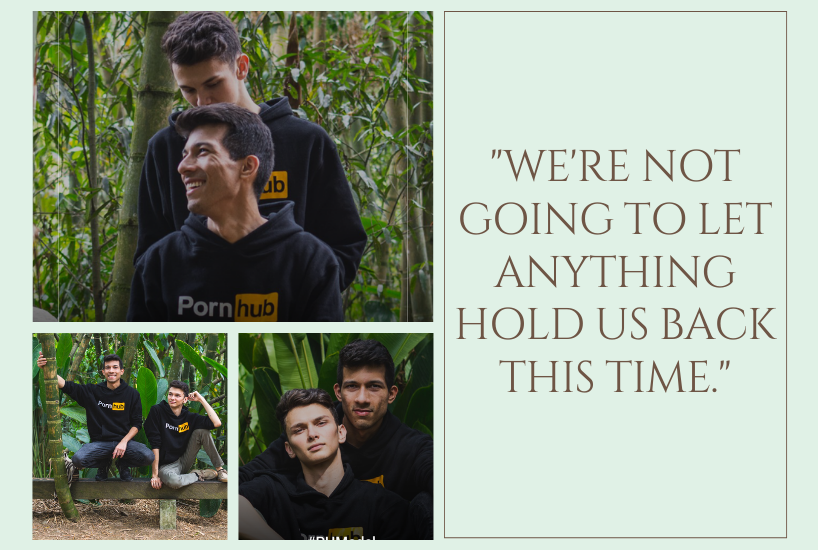 Courtesy of MrTwink MrTwunk
How are you celebrating Pride this year?
MrTwink: I think right now, we are really just about honoring ourselves and honoring whatever the hell we want to do. We're moving to a place where we've wanted to for a while, and we're going to just live our lives the way we want and be proud of who we are. We're not going to let anything hold us back this time around because there's always so much that stop us, but we're going to try our damnest to not be held back by the state of the world.
MrTwunk: We're also going to take time to remember and acknowledge that there were many peope in the past that paved the road for us to be able to do what we do; to express ourselves the way we express ourselves. To have that in mind is important.
Do you feel different in terms of being part of the LGBTQ+ community before you joined the industry compared to now as an adult performer?
MrTwunk: I felt part of the community even before, but now, we get a lot of comments and people asking us, "Do you have advice for people who are starting out?" It feels like it puts us in a position of authority, like a role model position, so it's a little empowering, and it puts some responsibility on us, too.
MrTwink: I agree with that. No one knew who we were beforehand, and now we're in the top 10 on Pornhub and people are seeing our faces and saying we're legends. We put a little bit of work in it and it just happened. So I just want to thank everyone who supports us and have stuck by us.
MrTwunk: This has been life-changing!
Follow MrTwink MrTwunk on Twitter and Instagram for photos, videos, and updates on their next project.
Twitter @MrTwink_MrTwunk
Instagram @lifeofhubbiess